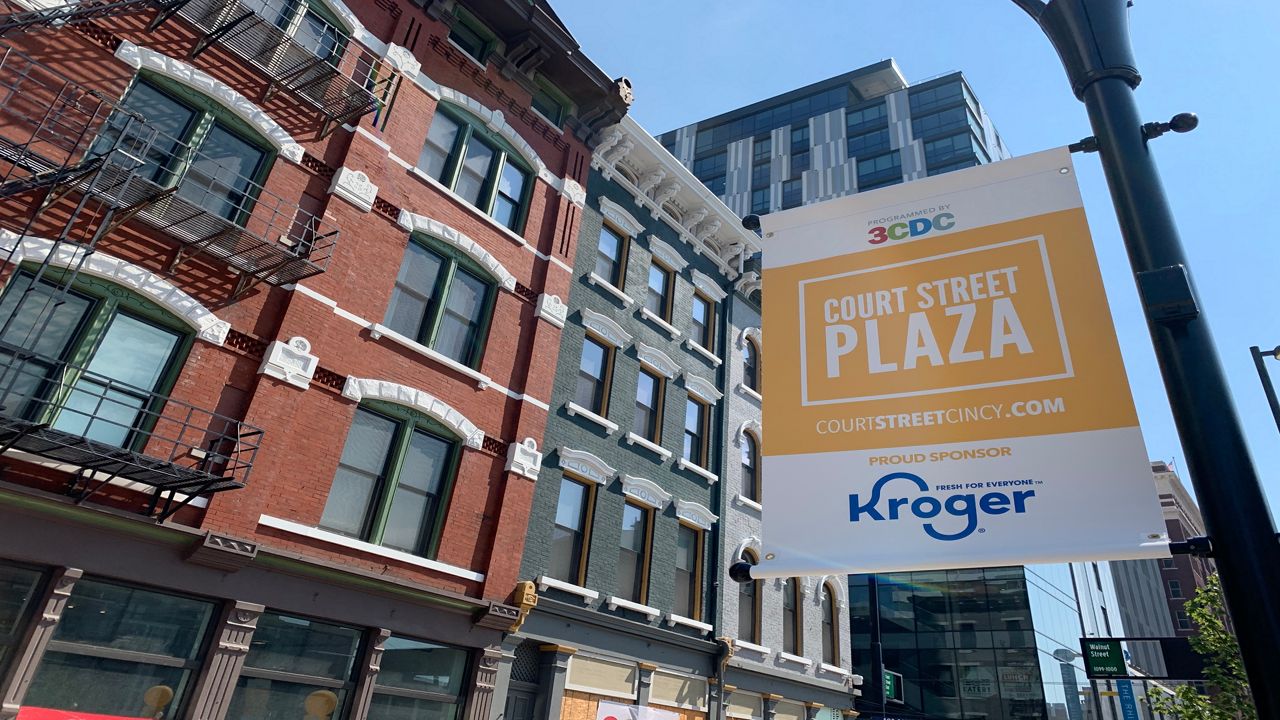 A new mobile ice rink is coming to downtown Cincinnati
CINCINNATI — Every year when the winter turns cold, downtown Cincinnati turns into a winter wonderland in part because of a temporary skating rink built in the heart of Fountain Square.
To capture some of that similar magic during the warmer months, the 3CDC organization plans to bring a different type of ice rink to the heart of the city.
---
What do you want to know
3CDC will launch a new mobile ice rink over Memorial Day weekend
The rink is a partnership with Frisch's that aims to celebrate the restaurant chain's 75th anniversary
To begin with, the ice rink will mainly be located on rue Court but it could be located in various places in the city center or across the Rhine.
Guests can rent skates or bring their own, but admission will cost $2 for everyone
---
3CDC on Monday announced plans for a new temporary roller rink as part of a new three-year partnership with Frisch's. The 10,000 square foot rink is mobile. The design makes it easier to build and demolish, meaning it has the potential to spawn in a variety of locations within the urban core.
Frisch's Roller Skating Rink will debut Memorial Day weekend on the newly renovated Court Street Plaza in the city's central business district. It will open on Friday afternoon and remain open until Monday evening.
The hours for this first weekend will be:
Friday, May 27: 4 p.m. to 8 p.m.
Saturday May 28: 12 p.m. to 8 p.m.
Sunday May 29: 12 p.m. to 8 p.m.
Monday, May 30: 12 p.m. to 6 p.m.
3CDC will announce more details, including other Memorial Day weekend entertainment, on the Court Street Plaza Facebook page.
"It's partnerships like these that make programming in the urban core possible," said Christy Samad, senior vice president of 3CDC. "We are grateful to Frisch for his support of the rink and look forward to bringing this activity to the community."
The idea behind the ice rink is the way to create a fun outdoor activity for kids and children of all ages, according to 3CDC. But it also ties into the history of Frisch's, a local restaurant chain known for things like its famous Big Boy burger and milkshakes.
Roller skating first rose to prominence in the 1930s and remained part of the cultural fabric until the 1950s, the same period that the first Frisch's restaurant opened.
The rink is a way to honor Frisch's 75th birthday, which is this year.
"Frisch's has been bringing joyful experiences to customers for 75 years and we will continue to do so as we celebrate our 75th anniversary," said Jordin Nabi, Frisch's Vice President of Marketing. "We are thrilled to partner with 3CDC to bring back the magic of roller skating and say thank you to our loyal guests."
The rink will have 150 pairs of outdoor roller skates available for hire. These will cost $5 a pair. Customers can also bring their own skates.
Admission to the rink will cost $2 for everyone.
By comparison, ice skating at Fountain Square costs $10 per person for a 90-minute session. This cost covered admission and skate rental.
The rink's goal is to "attract a diverse clientele of all ages, races and socio-economic backgrounds to enjoy fun outdoor physical activity, which is reflected in accessible pricing," according to a 3CDC statement.
Beyond costs and the opening weekend, 3CDC has yet to share many details about plans for the rink.
3CDC also operates programs in Fountain Square, Washington Park and Ziegler Park. The rink must operate on hard surfaces, so it could, in theory, be built in Fountain Square or the sports fields in Ziegler Park. The initial plan is to focus on Court Street this year.
"Our plan for 2022 is to primarily use Court Street Plaza until we really feel like we have a good handle on assembly, operation and dismantling," said 3CDC's Emily Stowe. "The rink is made up of floor tiles and water barricades and will be stored and moved in a trailer from which we will also run the operations."
The renovation of Court Street Plaza aimed to convert a disinvested part of downtown Cincinnati into a bustling link between downtown and the Over-the-Rhine neighborhood. The layout of the plaza makes it ideal for large outdoor gatherings and special events.
Asian Food Fest took place on Court Street Plaza over Mother's Day weekend.
It's not yet known how long it will take to build the rink, Stowe said. Each build involves the team configuring it to fit the space. Stowe said they were planning a full day of assembly for the first time.
Details on additional activations are not yet available, but the Court Street Plaza website and Facebook page will be the main sites for updates.