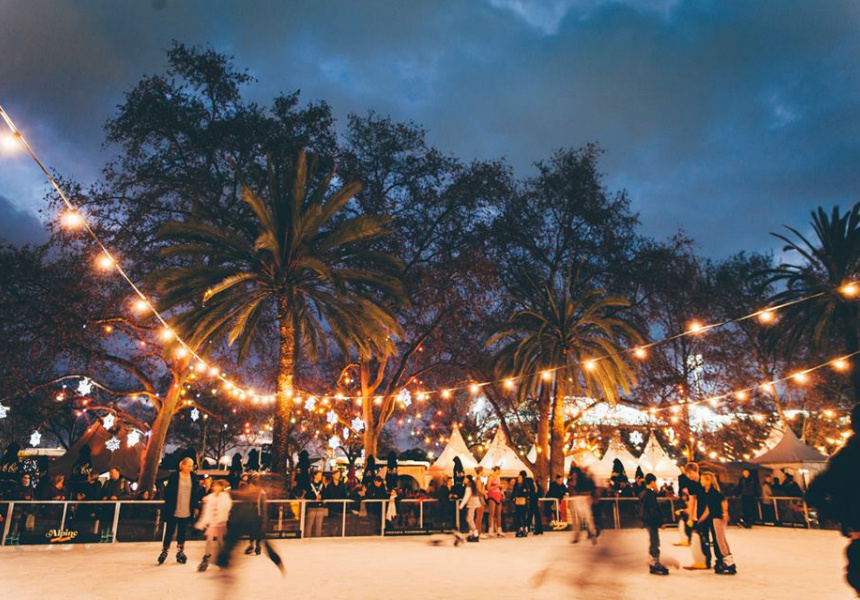 Ice skate under the stars, shop in Adelaide's version of European Christmas markets, watch a dazzling light show on the foreshore, and stay warm by the fireplaces.
Beachside, Glenelg transforms into a winter wonderland for 24 days when the Alpine Winter Festival takes hold of Moseley Square and the foreshore.
Experience the pier in a new light with a dramatic light show and soundscape, inspired by the impact of a storm at sea. It will be complemented by warm Christmas lights and fireplaces set up throughout the village.
At night, the open-air ice rink will come alive with lights and immersive projections. A 45-minute session on the rink costs $ 15 for children and $ 22 for adults (and a skating assistance penguin is available for hire for $ 6).
There is also a pop-up winter market hosted by Gilles at The Grounds, inspired by Christmas markets in Europe. Shop for knickknacks, arts, crafts and local produce.
Grab food and drink from a list of stacked vendors, including Fire x Soi 38; Antica Pizzeria and Cucina; Gang of meatballs; Souperb; Crêperie & Cie; Ragi's Spice Kitchen and more.
There will also be live music from Naomi Keyte and Katie Pomeroy, Alana Jagt, Towns, Jimmy & The Mirrors Post Apocalypse Jam Band, Aidan 'Jazzy' Jones, Timberwolf, Jess Johns, Ricky Albeck, Heaps Good Friends, the Ah Hum Salsa Collective and even Peter Combe, who will perform shows for children and adults.
Admission is free from Sunday to Thursday and before 7 p.m. on Friday and Saturday. After 7 p.m., it's $ 10.
From 10 a.m. to late.
More information here.