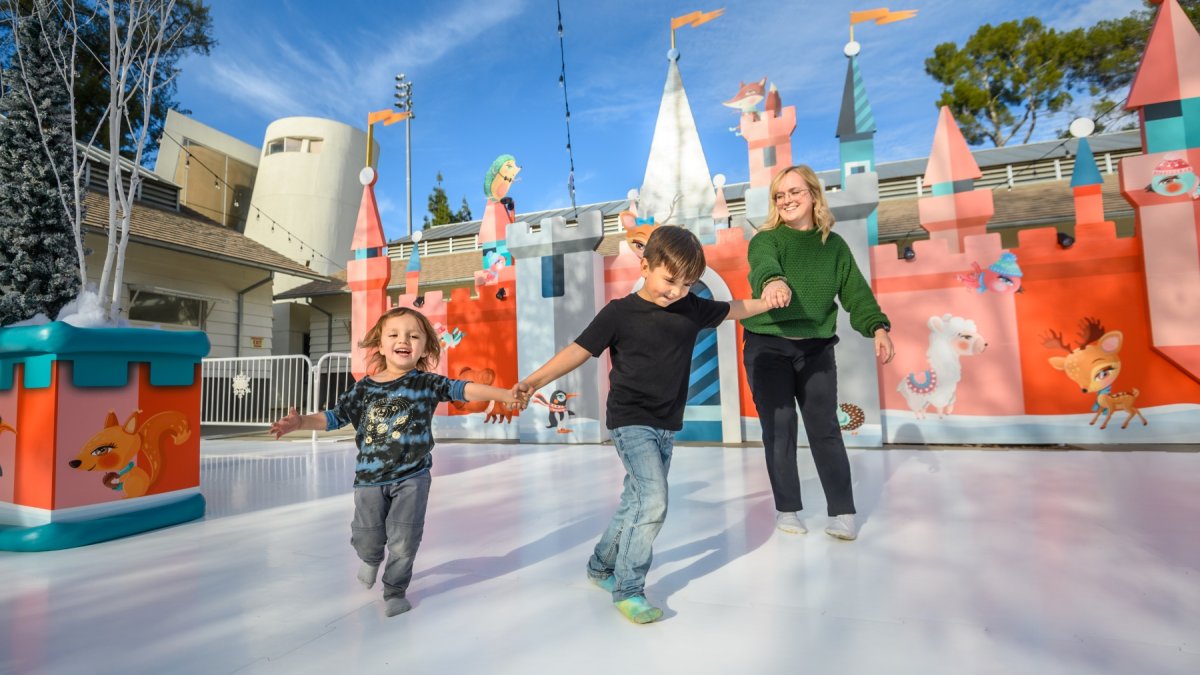 An adorable sock rink just returned to Kidspace – NBC Los Angeles
What there is to know
"Winter Frolic" at the Kidspace Children's Museum in Pasadena
$14.95 admission (kids 2 and under admitted free); Additional $5 fee for skating in your socks
The seasonal event has other cute tasks, including building fake "ice blocks"; visit November 18 to January 8, 2023 for chilly fun
If you're a kid drawn to the thrills of a bustling rink, but would like to try your hand, or rather your feet, at rink-style gliding first, the key is to find a place where you can skate in your socks.
But come across a tall building with a sign in front that says "Sock Skating" in neon? It's such an unlikely sight that almost anyone would be hard pressed to say if they've ever come across such an offbeat company.
There is, however, a pop-up rink devoted to sock skating, the kind of seasonal attraction created for families with young children.
Where to find it?
At the Kidspace Children's Museum, where a full "Winter Frolic" just debuted on Friday, November 18.
The chance to strip off and step into this rink, which contains no ice, is tempting for toddlers and parents, but there are other events at the Winter Frolic, including places where engineers budding kids can build with "ice" blocks (no, that's not really ice) and throw snowballs (no, that's not really snow).
The snowballs, by the way, are described as "super soft", which is fine.
Good to know? Much of the Winter Frolic fantasy is included with your admission to Kidspace, but keep in mind that skating socks incurs an additional $5 fee.
Add to the childish charms of the rink? It has a storybook vibe, another element that sets it apart from other frozen destinations.
So you say your little ones like to skate around the house in socks? What would they think of a real place where other people are also taking a ride or two in their fluffiest foot covers?
Could such a remarkable ice rink exist? It can and does, near the Rose Bowl in Pasadena.