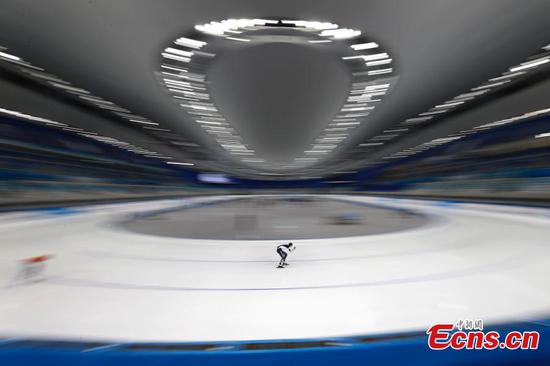 Beijing 2022 Olympic Winter Games test events kick off with speed skating
Photo taken on Oct. 8, 2021 shows the women's 3,000-meter short track speed skating underway at the National Speed ​​Skating Oval in Beijing. (Photo: Chinese Press Service / Fu Tian)
(ECNS) – A series of test events for the Beijing Winter Olympics has started with the three-day "Experience Beijing" speed skating China Open. The competition ended last Sunday at the National Speed ​​Skating Oval (The Ice Ribbon) featuring athletes from China, the Republic of Korea and the Netherlands.
From October 5 to December 31, the Beijing Winter Olympics Organizing Committee will organize 10 events, three weeks of training and two national activities at eight venues in Beijing, Yanqing and Zhangjiakou, with Speed ​​Skating China Open , the first international test event.
In addition to foreign athletes, the test events also hosted representatives of the International Ski Federation (FIS) and International Technical Officials (ITO), etc. best opportunity to adapt to places.
For the prevention and control of the pandemic, the Beijing Winter Olympics Organizing Committee has made meticulous arrangements for each site. The national speed skating oval is divided into "inside closed loop" and "outside loop" areas – personnel related to foreign athletes in the closed loop beach where people live, eat and move together without any contact with the outside world.
The Netherlands have always dominated speed skating. Sophie Kleiveld won the gold medal in the first 3000 meters women while another Dutch athlete Isabel Grevet, the big winner of this test competition, won the 500 meters, 1000 meters, 1500 meters women, alongside the women's championships of collective departure.
Yang Binyu, a 19-year-old Chinese athlete, won silver in the women's 3,000 meters and mass start competition.
Then the 2021 Asian Open Figure Skating Trophy, the 2021/22 ISU Short Track World Cup and other events will also be launched.