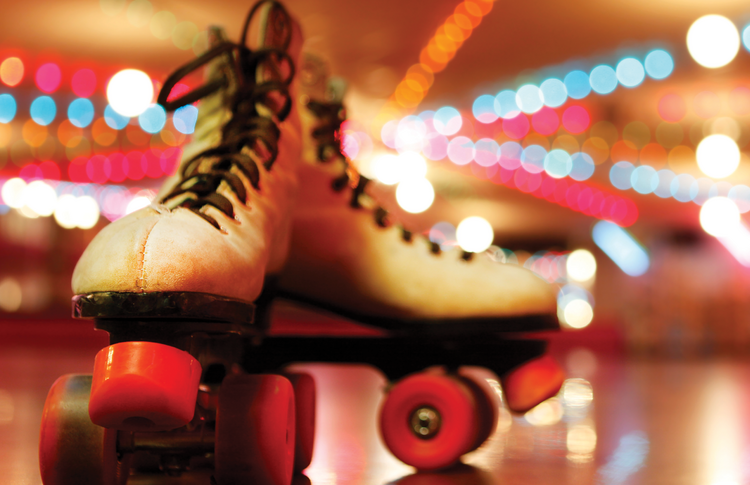 Best Holiday Tradition You've Never Heard Of: Venezuelans Roller Skate Until Christmas Mass At Sunrise
One of the best parts of Christmas, in my opinion, is hearing how other people celebrate it. It's going to your in-laws and learning that instead of turkey or ham, they eat Polish sausage, or that they open all their presents except one on Christmas Eve, or that everyone has to make a duet with grandmother.
In China people give apples wrapped in colored paper as gifts on Christmas Eve because the Mandarin word for "peace" sounds like the word for apple. In Greenland they fill their windows with red-orange stars and dance around the Christmas trees.
And in Venezuela, they have roller skating all night, which ends with everyone skating to mass at dawn.
Yes, you read that right. I too had doubts when I first heard of this tradition – so much so that I wrote to a friend of the Jesuit Curia in Rome to see if there were any Jesuits from Venezuela who were working on it and who could confirm that it is a real thing.
It took him a little while to answer, and when he did, it was with a question, "Are you kidding?"
"I know, that seems unlikely to me too," I replied. "No," he replied. "Father General comes from Venezuela, you crazy. (And by the way, I just saw it and, yeah, that's a real thing. Plus, you're fired.) "
The patinas, "the skating," "is most definitely real," Venezuelan-born Coromoto Power told me over the phone from England, where she and her mother Beatrix now live. "It's like a mini-festival. There are just a lot of people coming into a park, and there is music. Imagine Central Park, with its trails and so on, and you skate and sing Christmas carols.
Do we drink a lot? I wonder, thinking of some memorable ice skating events in the Midwest. No, says Beatrix. "It's a family affair. It's for the kids. It would be coffee and hot chocolate, soft drinks, juice. Turns out, there's no real need for hot toddlers in December in Caracas, as it's the peak of summer.
Although the practice seems quite secular, Beatrix explained to me that in fact, roller skating all night long is very much linked to the Catholic faith. "It's normally the nine days before Christmas (although others just do it on weekends or Sundays – with people working and in school, it's a bit more difficult). You're gonna skate all night, and then what we call Gallo mass– rooster's mass, because it is at 5 or 6 in the morning.
"You're going to skate all night, and then to what we call Gallo mass– rooster's mass, because it is at 5 or 6 in the morning.
The songs sung in the parks are not ballads of the Venezuelan Top 40 but aguinaldos, religious songs written especially for Christmas. Coromoto – who was named after an indigenous Venezuelan chief to whom the Virgin Mary appeared – recalls a song that imagines a world in which the Virgin Mary was from the Andes and Saint Joseph from another region; "Then Jesus would be from Venezuela," she laughs. "It's bordering on blasphemy," she laughs.
"No no no, that's not the case; it's very beautiful, "his mother intervenes, while Coromoto describes additional verses from the song, in which the infant Jesus is reimagined as a Venezuelan baby, with traditional shoes and a special hat.
Each region, explains Coromoto, has its own aguinaldos. "There is a great regional conflict between Caracas and Maracaibo. These are the two big cities; there is a great baseball rivalry, "she said. "So the people of Caracas wouldn't necessarily accept their song. "
Growing up in Venezuela, Sonia Castillo and her siblings experienced a similar sort of celebration in Caracas, but on a more intimate scale. "It was more a family affair with us and some of our cousins," she tells me through her son Alonso Martínez, who translates from Spanish. "We used to go out before dawn and skate the wider streets and stop to eat fried candy. arepas", A delicious cornmeal cake filled with things like black beans and avocado, or cheese and steak.
"It was common to see 'snakes': 15 or more skaters holding onto each other [and moving] high speed. Sometimes they spin out of control.
Ms. Castillo also recalled the large gatherings of more experienced skaters in Parque Los Caobos in downtown Caracas. "It was common to see 'snakes': 15 or more skaters holding onto each other [and moving] high speed. Sometimes they spin out of control. Ms Castillo once tried to join her and ended up with a badly bruised knee.
Beatrix Power notes that the escalation of violence in recent years in Venezuela has made large community celebrations less common. "Over the past 12 to 15 years," says her daughter, "things have intensified. It's such a gun culture. Safety is a very real concern at this point. So now skaters are more likely to stay between a few local roads or in a particular suburb.
Coromoto points out that the annual tradition is especially special as roller skating is not a national fascination of Venezuela all year round. "It's not like people are roller skating all the time," she says. "It's just a Christmas thing."
But why? No one seems to know for sure. Beatrix then said that the nine-day rooster masses and the aguinaldos have been around forever, roller skating all night and then until mass only started in the 1950s.
"It's not like people are roller skating all the time," she says. "It's just a Christmas thing."
Alexander J. Salas, SJ, a Venezuelan Jesuit currently studying in Toronto, believed the tradition might have some connection with the United States. "The skates came to Venezuela when our relationship with the United States was very good," he said. "A lot of things from the United States and Europe have happened. And the families started to make something new out of that, I guess that's what. "
It is not a bad one. In the United States, the period from 1937 to 1959 is known as the golden age of roller skating; there were approximately 5,000 operating rinks across the country and 18 million Americans skating. It was the number one participatory sport in the United States. And, indeed, after Marcos Pérez Jiménez overthrew the Communist government of President Rómulo Gallegos in 1952, relations between Venezuela and the United States developed.
Mr. Salas noted that the practice of roller skating during the last nine days of Advent is part of a much larger set of Advent customs and Marian practices. "Our Marian devotion is so strong in my condition," he explains. "She is central to us. She brings Jesus Christ. As such, the months leading up to Christmas are filled with devotions to Mary built around this sense of waiting on Jesus.
In the weeks leading up to Christmas, Venezuelans also embody this sense of preparation for the Lord in various ways. For example, people will paint their houses, maybe even buy new furniture, Mr Salas told me. "We have to keep our homes beautiful because Jesus Christ will come to our homes," he said. Then, as Christmas approaches, the children will roam the neighborhood singing and playing instruments indigenous to Venezuela, two of them playing the roles of Mary and Joseph in search of accommodation. "The other children sing and play instruments while Mary and Joseph go around. Families open their doors and offer hot chocolate and coffee, "says Salas. "Then we pray for five minutes for families, for hope and peace in every home. "
Just as Saint Ignatius encouraged people to imagine themselves in different scenes of Scripture, Venezuelan Catholics create living and continuous tableaux of the Holy Family. "We are accompanying the Virgin Mary and Joseph to find a home for the baby," explains Mr. Salas. "We are creating a very happy time before Jesus comes. "
Mr. Salas notes that this tradition is particularly strong in the poorest communities. "In poor neighborhoods, everyone knows each other, each child knows each child, each grandmother knows each grandmother. They can create something bigger.
Perhaps this is another part of the blessing of sharing our different Christmas experiences. Whether we can dance around a Christmas tree in one of the darkest places on the planet or are offered an apple that signifies peace, our stories bring us together in a closer community of love and love. 'friendship. We help each other to become a more suitable place for the birth of Christ.