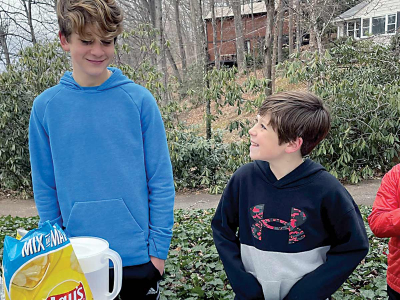 Birthdays, cardinals and rollerblades
My oldest son turned 13 on January 19 and my youngest son turned 10 on January 20. They're both officially in double digits, which is hard for this mom to believe. Since they were babies, we have had a double birthday party, as opposed to separate celebrations for each boy.
Ironically, my sister's birthday is four days earlier than mine in October, so we had similar experiences growing up. She and I have always celebrated together. Most often, our birthday party was at the old Skate-A-Round USA in Woodfin, and since it was close to Halloween, all of our friends were wearing their costumes.
We skated and laughed and boozed to Whitney Houston or Janet Jackson until our hearts were happy, then we hung out in the living room eating pizza, blowing out candles and opening presents. When I think back to my childhood, those birthday memories at the rink are very special.
With my boys birthdays being in January, I had to be creative with party locations. We've tried everything from trampoline parks and indoor pools to gyms and bowling. But in Covid times it was uncomfortable to congregate indoors for long periods of time, especially when jumping and rolling around.
Last year we had a small family birthday party with a few close friends. We thought this would be the only year we couldn't celebrate in a big way. Despite the lingering pandemic, I was determined to throw a party this year that felt festive yet safe. So even though it was freezing cold and a snowstorm was brewing, we lit two fire pits in the yard and kept everyone out while the kids rode bikes and scooters, played basketball, ping pong in a corn hole or carport and roast marshmallows. It ended up being so enjoyable that we'll probably make it an annual tradition, pandemic or otherwise.
On the morning of my eldest son's birthday, he took a picture of a cardinal in the snow outside his window. My late mother's favorite birds are cardinals and hummingbirds, so every time we see one we feel like it's saying hello to us from afar or watching over us. Seeing this photo made my heart happy and heavy at the same time. I knew in my heart it was her.
By chance the next day which was my youngest son's birthday we saw another cardinal in the snow outside the window and again we knew it was my mother wishing my youngest son's birthday . She never missed a birthday and always wanted to be one of the first to call the grandkids, so it's no coincidence that we saw the Cardinals early in the day.
Many people get a bit depressed during January because it's cold and dreary and there's not much to look forward to, especially after the holiday hype. But for me, it has always been a time of celebration because my two boys were born during this month. And while it's expensive to bundle Christmas and two birthdays together, it's still great fun and sheds some light on the month.
Emotionally it was a tough birthday because my eldest is now a teenager and it feels like yesterday as he jogs around and learns to say his first words. Then again, it's cool to watch him grow into a young man.
I saw a quote recently that said, "Get out of your head and into your life. A lot of women I know, myself included, tend to overthink and persevere instead of just living in the moment. One of my goals for the new year and forever is to stop doing this. There is so much beauty in the everyday and here and now. Whether it's roller-skating in witch costumes, sharing a birthday with a sibling, gathering around a fire pit, little boys becoming teenagers or cardinals in the snow, everything it is wonderful and meaningful, if only we allow ourselves to feel it.
(Susanna Barbee is a writer, editor and digital media specialist for The Smoky Mountain News, Smoky Mountain Living and Mountain South Media. This email address is protected from spam. You need JavaScript enabled to view it.).