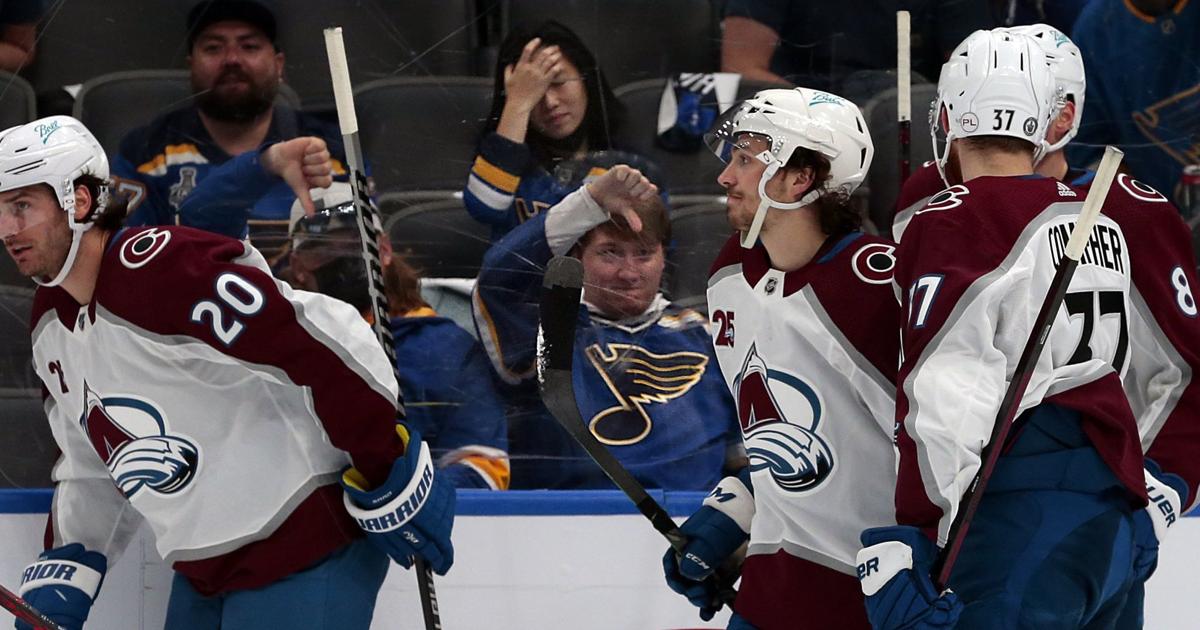 Blues notebook: Skateboarding is on the other foot for Saad | St. Louis Blues
Brandon Saad inflicted pain on the Blues in the last playoffs, scoring three goals for Colorado in the Avalanche's four-game sweep of St. Louis in the first round.
He now hopes to do the same against the Avalanche as a member of the Blues.
"Obviously it's fun to score and win," Saad said. "It was good. But it's a new year, it's a new team and we're looking forward to the challenge.
It's normal, almost a tradition, for a player to have dinner with a few members of his old team when he comes to town. But for Saad, this custom does not apply to the playoffs.
"In the playoffs, I don't think you see it too much," Saad said. "I think it's more regular season, but the playoffs are more team dinners – hanging out with your teammates, watching hockey. At least that's my plan. I don't know what the other guys are doing.
Besides, it's not like Saad is putting down roots in Colorado. He was only with the team for one season before signing a free agent contract with the Blues last offseason.
"You're moving pretty fast," Saad said. "It's not like I've been here long. But it was a fun year. A lot of success. You get to know guys and build relationships. But it's a hockey series. We will face it like any other team and focus on ourselves.
Interestingly, in the build-up to this year's series against Colorado, coach Craig Berube said he noticed Saad on film, especially during Colorado's second-round series against Vegas.
"He was the only player who exposed Vegas with his speed and drove that puck hard to the net," Berube said. "He did a very good job. It's also what he does for us. He has the ability with his speed – he can get pucks into tough areas and create opportunities, not just for himself, but for others.
During the regular season, Saad had 49 points on 24 goals and 25 assists. It was his sixth season with 20+ goals. His point total (49) was his highest since the 2016-17 season when he was with Columbus, and just four points off his career high.
"He's a solid player in all areas," Berube said. "He plays a good defense for us and has disadvantages. He's a versatile guy for us.
injury update
Defenseman Marco Scandella, who has been battling a late-season lower-body injury, took part in Monday's practice at the Centene Community Ice Center before the team departs for Denver. But he's not expected to be ready for the Colorado series opener.
"He was just there in training today," Berube said. "I don't know when he will be ready. I really do not know.
During Monday's line rushes at Centene, Scandella was not among the top three defensive pairings.
Scandella only played in two of six games against Minnesota, aggravating the injury in the first period of Game 4 and not returning for the remainder of the series.
The Blues' other injured defenseman, Torey Krug, did not practice on Monday and could miss the entire series with what appears to be a knee injury.
"He's coming (to Denver) just for rehab and things like that," Berube said of Krug, before the team left St. Louis.
Krug averaged over 20 minutes of ice time in the first two games against the Wild, but left the game in the first period of Game 3 due to injury and missed the rest of the series.
Santini recalled
The Blues added an extra body to their D-body on Monday, recalling Steven Santini from Springfield of the American Hockey League. He will join the team in time for Tuesday's series opener with the Avs.
The 27-year-old Bronxville, NY native played three minutes, eight seconds — or five quarters — in Game 4 of the Blues' first-round series against Minnesota and stayed on the ice long enough to be plus-1. He was a healthy scratch for Game 5, then sent back to Springfield.
This is the only game he has played with the Blues this season. he appeared in two playoff games against Colorado last season, when the Blues had a series of injuries and COVID issues.
He had a goal and an assist Sunday in Springfield's 7-6 victory over Wilkes-Barre/Scranton, winning the playoff best-of-5, three games to nil.