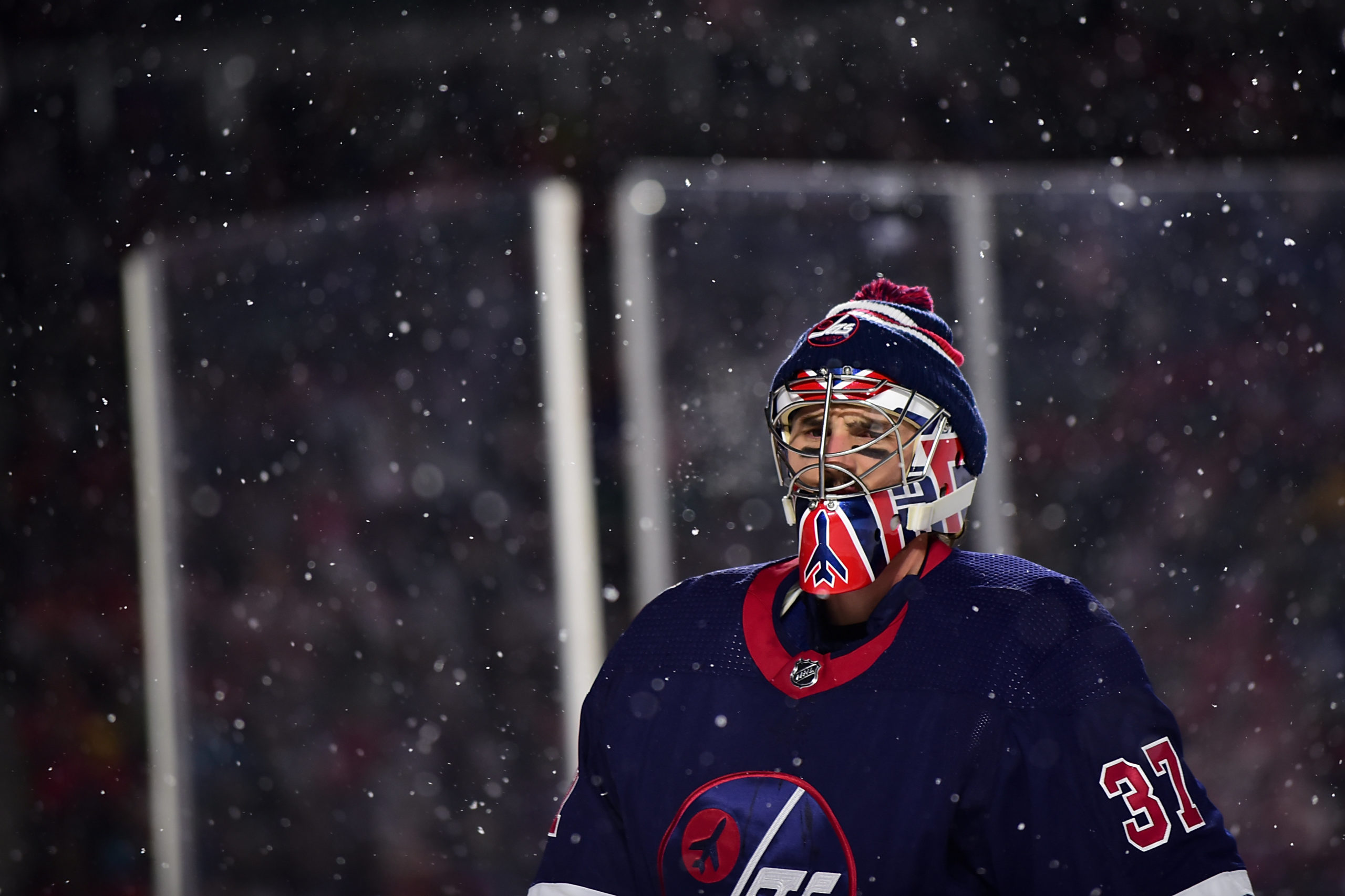 Chess at the start of the season; Nichushkin Update; Skating Hellebuyck – November 9 – DobberHockey
We're about a month into the NHL season and it looks like the games are going out of hand, right? It doesn't feel like a month has passed since the start of the season, but we are there.
While it's still too early to make any decisions, there are definitely some players and situations that I've strayed from in fantasy altogether. In that vein, I thought I would go through my hiccups at this point in the season. We all love to talk about our successes, but there are more lessons in failure, and after doing this for almost a decade now, there have been a lot of failures.
Here are a few players I sniffed at. These are players or situations I was higher on than others and it just didn't work out as expected.
Before the season, my reasoning for writing Raanta was as follows.
First, neither he nor Freddie Andersen had been very good recently. If they had, their respective teams would not have abandoned them. Second, while Raanta is certainly injury-prone, Andersen had just had his own injury season. It seemed a little foolish to rule out Raanta for injury while not assigning at least some of the same risk to Andersen. Finally, this team has long handled a 1A / 1B situation, with none of the goalkeepers getting a monster starting volume. Maybe Andersen would get 45-50 starts, but a healthy Raanta would still get around 30. Needless to say, everything went wrong.
Honestly, I don't know what to think about it. As mentioned, this is a departure from what this team is doing: Last year the team didn't see a goalie start more than five games in a row, like the year before. Seeing Andersen come out of the gate with six starts is not only a departure from what we might expect this year, it would have been a long way from left field in a recent season as well.
This is why I find it hard to see if there is anything to learn here. While we can say that situations in the NHL can change in no time at all, that doesn't really help us; "changing things" is not good advice. If Andersen starts more than 60 games this year, I will be really lost. It's just something I never expected. It might be mine, but the fact that Raanta is now injured should mean even more starts for Andersen. We could see this team give over 50 starts to a goalie for the first time in five years.
It's not like he's off to a bad start. He was late in the roster due to his contract status, but has five points and a whopping 43 hits in eight games. There is one problem here, however: the volume of fire. After averaging almost four shots per game last season (3.93), he's fallen to 2.88 shots per game this season, a career worst. Three shots per game is obviously not that great, but he was often shot at the end of the first round partly because of that volume of shooting. There's a big difference between 220 shots on goal and 320. That, of course, has a cascading effect if he can't maintain his career-high 13% shooting percentage that he currently is.
What's going on here, I think, is that he finally has teammates shooting. Tkachuk didn't play with it much Josh norris and Drake batherson until the end of the season last year, and these two guys are shooting a lot more than they were last year; Batherson is filming about 15% more than last year while Norris, on a per-minute rate, is closer to 40%. Ottawa's rate of fire with Tkachuk on the ice failed moved – in fact it has gone down a bit – so we have the same number of moves available but other players are taking more of it. It might not even be directly related to Tkachuk because if his teammates shoot more, there really isn't much he can do.
The question is whether Tkachuk can deliver value elsewhere. If he can stay at a 30-goal, 50-point pace with 350 hits, well, that'll be fine. Problems start if his shot percentage drops, his hit rates drop, or his shots drop even more. Just something to watch out for as the season progresses. I don't have great concerns here as the line looks great together.
We're going to have a pair of Star players here.
No goals, two assists, minus-5 in 11 games played. It's been a horrible start to the season for Hintz, and for almost all of their skaters, really: Miro Heiskanen and Ryan suter have 17 points while Seguin / Pavelski / Radulov combined for 18. Anyone who hasn't drafted a Dallas defenseman is likely disappointed with their Dallas skaters this year.
I'll be honest and say I have no idea what's going on in Dallas. Hintz started the season playing 13 minutes a night as the team started the year on the road. His ice time has increased considerably since then, especially with Jason robertson back. Two points in seven games since is still not good enough. Why his ice time was reduced at the start of the season, who knows. There must be something going on behind the scenes that we don't know anything about.
Since Robertson's return, the Hintz-Pavelski-Robertson line is really good, control around 70% of expected goals and 60% of shooting attempts. The problem is, the line is aimless in their ice time together. They play extremely well but are hooked on snakes right now. The question is whether their coach allows them to play through the struggles or pull them apart in advance. By the way, I always buy Hintz for the season. It should be very cheap in a trade right now.
On the other hand, a player I won't buy for the rest of the season in Dallas. The problem here being their current row combinations. Although they changed their lines at times against Vancouver, for their final games they largely led the aforementioned Hintz trio, as well as Benn-Seguin-Radulov. This leaves Gurianov in the bottom 6 playing with less skilled players, and that's very bad news.
This is an issue that I raised during the offseason. The team could either balance three lines or load two. They went with the Load Up Two approach, and Gurianov gets the small end of the stick. Despite high shot-per-minute rates, Gurianov has only played more than 15 minutes once this season. Very few players can skate 14 minutes a night and still hold their relevance in most of the great leagues.
I still have confidence in Gurianov's offensive skills and his fantastic potential. However, the team clearly doesn't think much about their game, having been in good health scratched for a reason. It's hard to see him regaining great fancy value this year without an injury or a 180 degree turn from the coaching staff. He reminds me a lot of how the Rangers used to treat Pavel Boutchnevich.
It's the double-edged sword of a defender's draft who will play a lot of minutes on a bad team. This title could actually go to Jakob chychrun but we've fed this horse before and honestly a minus 20 rating in 12 games is impressive in its own way.
No, this is a player who produces but whose fantasy value still suffers. Seth jones has 11 points in 13 games, and that's really good! Two problems though: He's under-8 in those 13 games and he's only got eight hits. He was a guy who averaged 1.8 hits per game last year, and more than one hit per game the year before. Being in the beat for 50 hits and a minus-50 rating isn't, uh, great for Jones.
There is, of course, the reverse here. Assuming he doesn't finish the minus-50 season, then the last month has been as bad as it is going to be here. He also didn't score on 40 shots on goal, where he should have 1-2 goals. He could rightfully be a point-per-game defender, or nearly so, this year. It's just a matter of peripherals lining up for an elite season. It's not hard to see the pieces come together, we just need to make it happen.
*
Just a warning that the Senses could have positive COVID tests coming in:
They are in Boston Tuesday night, but are then home for three more. It will be interesting to see if they leave someone behind for the quick trip to America.
*
Good news from the Winnipeg Jets on the Connor Hellebuyck front:
Riley nash skated in Mark ScheifeleIt's up to practice and it looks like it will be a game decision on Tuesday night. The big news is obviously Hellebuyck, as he has missed three games now, two of them due to illness. That he seems to be doing well is very important to Winnipeg.
*
And some good news on the Dougie Hamilton front
It looks like he's ready to go as Hamilton would continue to train with the best PP unit, which is usually a sign that a player is ready to come back. Hamilton owners can breathe a little relief here, although the short term calendar Florida, Islanders and Boston is not particularly appealing.
*
Valeri nichushkin update:
Colorado is starting to regain health and Nichushkin remains one of the few to have returned yet. Makar wedge also seems to be set to come back this week.
*
Timo Meier and Kevin Labanc were both skating for San Jose, being off the COVID list. We'll see if they're ready for Tuesday night.
*
Adam Fox scored a nice shorthanded goal on Monday night:
The goal allowed him to maintain at least a points-per-game pace throughout the season, as he entered the game with 12 points in 12 games. It also gave him 53 points in 53 games dating back to mid-February last season. This has been quite the race for Mr. Fox.
*
A pair of goals from Tom Wilson plus one from the Gr8 took Washington to a 5-3 victory over Buffalo. For Wilson, it's worth noting that while he doesn't shoot much – around two per game – he plays over 19 minutes a night, by far a career-high. Part of that is surely due to injuries, but it will be interesting to see his ice time level once Oshie and Mantha return.