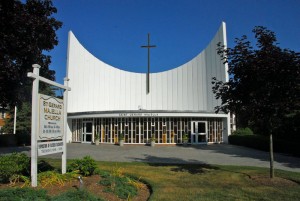 City plans public forums to discuss purchase of St. Gerard's
By Mike Berger
The Canton Select Board plans to hold at least two public forums next month to discuss and answer questions regarding its interest in acquiring the former property of St. Gerard Majella Church at 1860 Washington Street. A vote on the issue will take place at a special city meeting on Wednesday, December 1 at 7 p.m. in the auditorium of Canton High School.
The first public session will be held in person on Monday, November 8 at 7 p.m. at the CHS Distance Learning Lab. A second session is provisionally scheduled to be held at a distance two days later, Wednesday, November 10. It is hoped that Canton Community TV will record at least one, if not both sessions, and air them over the next few weeks.
A third session, specifically intended for seniors, is also planned, the date and place of which remain to be determined.
Board Chairman Mike Loughran said City Moderator Alan Hines will facilitate the November 8 presentation with Loughran and Board Vice Chairman Lisa Lopez on hand to respond to all questions from the audience.
Last Tuesday, the board of directors voted to close the mandate of the STM on December 1 with two articles: the main question of whether the city should make an offer to purchase the former property of Saint-Gérard, as well as a credit to cover a budget deficit to complete renovations to the Metropolis rink. Loughran noted that if voters passed the measure of bidding for St. Gerard's, the acquisition would be by eminent domain – an established right of governments to take private property (with compensation) and convert it to a public use.
Loughran said the Archdiocese of Boston has expressed a desire to sell the property and that a fair price will be negotiated between the parties.
"There is nothing sinister or hostile about it; it's just the process, "he said at last Tuesday's board meeting, alluding to concerns raised by some residents about the use of the prominent estate. "We will negotiate in good faith and pay the fair market price. It's just the process of doing it.
The reasons why the Select Board is interested in the property, the potential uses of the building and the land, and a further explanation of the eminent domain process are yet to be discussed in the public forums.
Loughran said what will not be known at the November meetings are the financial details and the impact on the city. He said that an evaluation is requested on the property and will not be known until December 1 from the STM.
Short url: https://www.thecantoncitizen.com/?p=77622