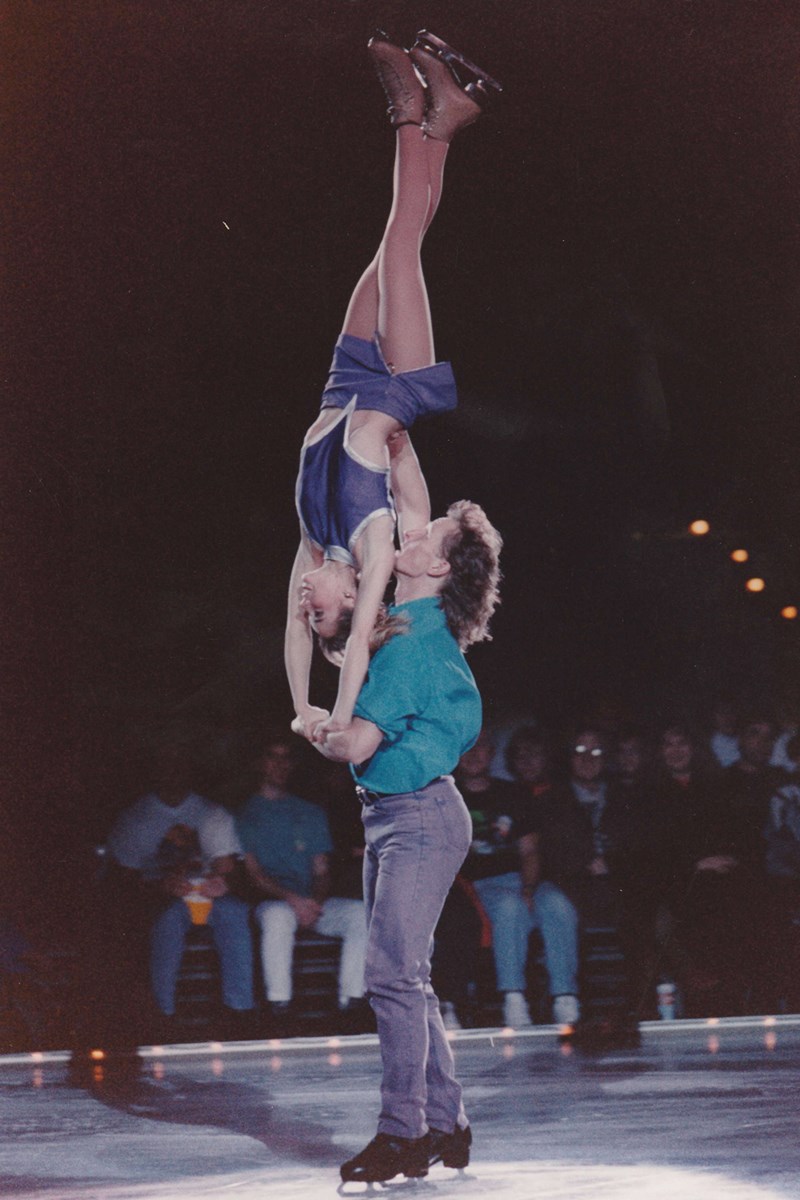 Douglas Ladret, Powell River Sports Hall of Fame Inductee
Douglas Ladret, a two-time Olympian in pair figure skating, is about to return to where it all began. Ladret and nine other inductees will be welcomed into the Powell River Sports Hall of Fame later this spring.
He started skating when his big brother Greg, who was about 13 at the time, started taking skating lessons to play hockey. When he was four, his family would walk the roughly three blocks to Willingdon Arena for practice. His parents noticed young Ladret had a natural balance on the ice, so they arranged for a coach, and although there was a bit of turnover in skating coaches, he grew to like it. .
His youth was filled with hockey, baseball and rugby. Although skating was almost always present, it would never compare to his true passion, music.
"Skating was just kind of a thing I did," he said. "It wasn't an aspiration; it was just an activity.
When Douglas was about 10 years old, he saw Greg and his ice dancing partner, both from Powell River, move to Vancouver to train more seriously in figure skating. It was around this time that the 1972 Sapporo Olympics were taking place. Douglas said he remembered the opening ceremony, with the torchbearer running to light the torch.
"It was kind of the moment it hit, that I wanted to do this," he added. "I wanted to be there."
Douglas also moved to Vancouver, where he would have better access to training. He traveled to regional events and made it to national championships when he was 13 years old.
love of music
Throughout high school, he was heavily involved in musical theatre, orchestra and jazz choir. He said that skating at the time wasn't going well, so he took his true passion for granted.
In Grade 12, he played in a band at weddings and nightclubs and worked at a catering company to pay for his skating.
"[Music] was my real passion all along. I was just good at skating, which is kind of weird because some people say when you lose your passion is when you retire," Douglas explained. "Well, it wasn't a passion. I was just good at it, so I kept going. But then when I wasn't good at it for a while, I chose to follow my passion, which was music.
When he was 19, he almost gave up, thinking he was too old for the sport. He debated going to college for music when a former high school teacher encouraged him to stick with skating while he still could.
By chance, that's when he watched 19-year-old Lyndon Johnston win the Junior National Singles Championships.
"He was doing the exact same jumps that I could do," Douglas said. "He was the same height, maybe an inch taller than me, and I was like, 'Why am I too old, but he's winning national titles as a junior.' So that kind of thing triggered something.
The spark
Douglas immediately began training under Johnston's trainer, Kerry Leitch.
"I've never been so tired in my life; I had never trained like this in my life, never before," he said. "But I was never put through a training protocol like there was under Mr. Leitch."
Under Leitch's leadership, 1984 was a great year. He skated his first international competition and was paired with Christine Houghwho would be there with him through some of his most important skating moments to come.
He and Hough just clicked, had great chemistry, and quickly became one of the best pitching teams in the world.
In 1986, the infamous accident happened. Ladret's skate got stuck in a rut during a throw, and they both fell to the ice. Ladret tried to pull Hough forward as he fell backwards; that's when his head hit the ice.
He didn't think much about it other than the feeling of his clogged ear. But after inspection, the team doctor sent him to Hamilton General Hospital. Tests revealed that he had fractured his skull.
"I can hear [my coach] in the hallway with the doctor who says: "We have a competition in Moscow in a few weeks, when can he come back on the ice? and the doctor said, 'after the night, he can think about skating after that. He will have to spend the night first.
It was the first time he had seen his frightened trainer. Usually, Leitch was like "there's only one way out of the ice, you better bleed or die."
For Douglas, the accident was not serious. He comes from a fishing family and grew up hearing stories of boats running over rocks, exploding and catching fire at sea.
"For me, it felt like I just broke my skull. At least I'm not stuck at sea.
Five weeks later, he was back on the ice, but this time wearing a hockey helmet.
The duo played it safe at the Sectionals and qualified for the Nationals, where they went full throttle, with Douglas still wearing his hockey helmet for protection.
"What we thought would end our career, we ended up third," he said, "which qualified us for the world championships for the first time."
go for gold
They would win gold at the 1987 Skate Canada International and the 1988 Canadian Championships.
Then came the 1988 Winter Olympics in Calgary, where the duo placed eighth. A special moment was skating on the ice of the Saddledome in front of 22,000 people.
"I've never been in front of so many people in my life, other than the opening ceremony," he said.
They pulled off an incredible throw and the 22,000 people cheered and shouted.
"I was scared. I was absolutely scared. It was so strong. It scared me to death.
Between the two Olympic competitions, there were ups and downs. The team won bronze at the 1989 NHK Trophy, silver at the 1990 Nations Cup and gold at the 1990 Skate Electric.
This was before being sent to 1992 Winter Olympics in Albertville, France, where Hough and Ladret finished ninth. After their long program, they received a standing ovation from the referee, which they are not allowed to do.
"He just said, 'You deserved it, for your career,' like wow, that's pretty cool."
After the Olympics
After the Olympics, Douglas continued to perform with Stars on Ice from 1992 to 1997, where he was again able to explore his love of music, but this time with a twist of figure skating.
"I started experimenting with adding music on top of the music. At the time, vocals weren't allowed in skating competitions, so I started recording musical versions of songs on which people would want to skate in. So I had the synthesizers and the programmers and everything.
Combining his love for music and knowledge of what skaters loved to do, he became quite good at it and produced many edits for the show.
Later, he and his wife opened a training center and trained international skaters.
"What was fun was coming back to Canada, coaching at Skate Canada, Quebec, Halifax and Victoria," Douglas said. "The circle has come full circle this way. There are many places where I have been able to train.
He said he was inducted into the Powell River Sports Hall of Fame is a huge honor.
"I was shocked. It's been so long since I've done anything about skating; I tried to stay behind as a coach," he added. "Starting at Willingdon Area near from the beach and end up in the mountains of Colorado. To be able to come back for that is pretty cool.
Douglas lives in Colorado with his wife and son.