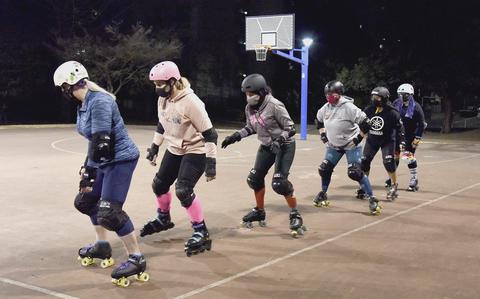 Flatliners train to flatten roller derby opponents at US bases in Japan
YOKOTA AIR BASE, Japan — Lights come on at 6 p.m. on a basketball court at this western Tokyo airlift center in late February as Yeah Yeah Yeahs' "Heads Will Roll" comes out of a high- portable speaker.
The Fuji Flatliners, a female roller derby team from Yokota Air Force Base, begin to warm up. After a practice session on blocking, random steps, and snowplows, they skate, cheer each other on, and flip each other.
"We are all here to help and strengthen each other," said Holly Dunn, 42, a native of Rowlett, Texas, and president of the recently revived Flatliners. "And some of these women are starting to not even know how to skate. And then you see them grow in this community, and even become one of the strongest players.
The Flatliners are one of three women's roller derby teams at U.S. military bases in the Tokyo area. After a long pandemic layoff, they're ready to start exchanging elbows and insults again. The Flatliners returned to training in February.
Dunn's character in the roller derby is "Happy Hollydaze" because every day female empowerment on the rink is a holiday, she told Stars and Stripes on Feb. 28. "I've never seen a more powerful group of women," she said.
The Flatliners meet to practice three or four times a week on the basketball court on the east side or in a parking lot which is sometimes the motorcycle safety course.
Mimi Torres, 39, from Villalba, Puerto Rico, works at the Yokota Airman and Family Readiness Center. As HulkYeahMimi, her roller derby name, she found contentment on the flat track, and the practices make her feel tough, physically and mentally, she said.
"I'm happier now that I've found roller derby," Torres said.
All in the name
Chicago sports promoter Leo Seltzer popularized roller derby in the 1930s, according to a March 2020 article by Gabrielle Puglisi in Smithsonian Magazine. He passed away in the mid-1970s.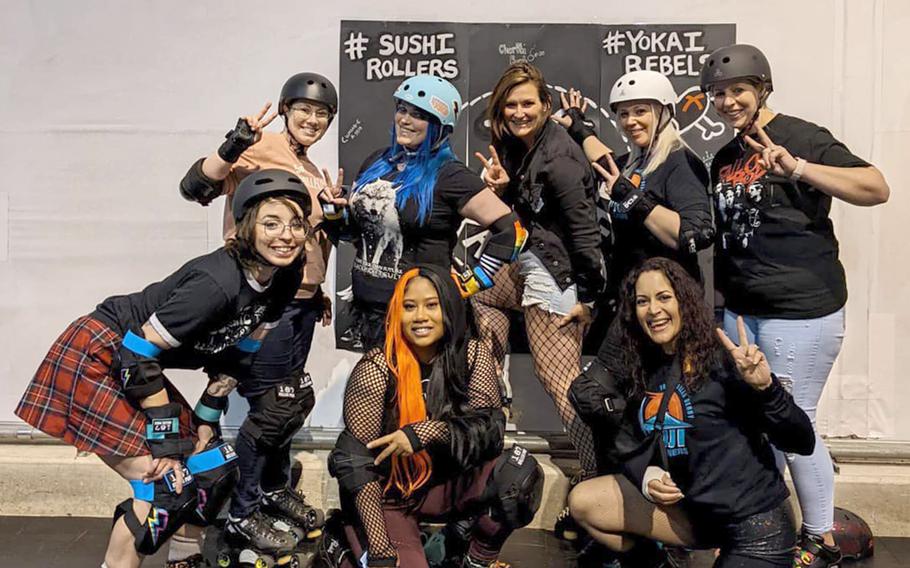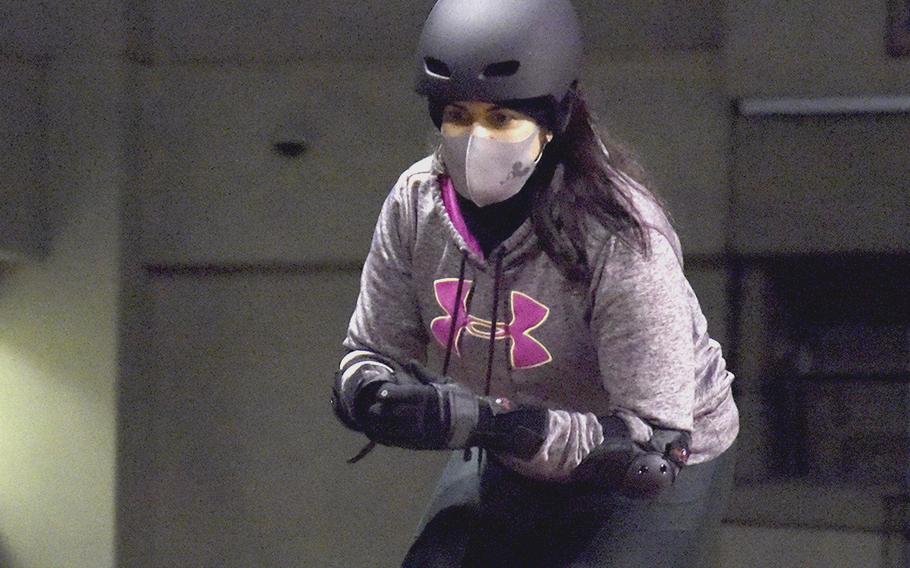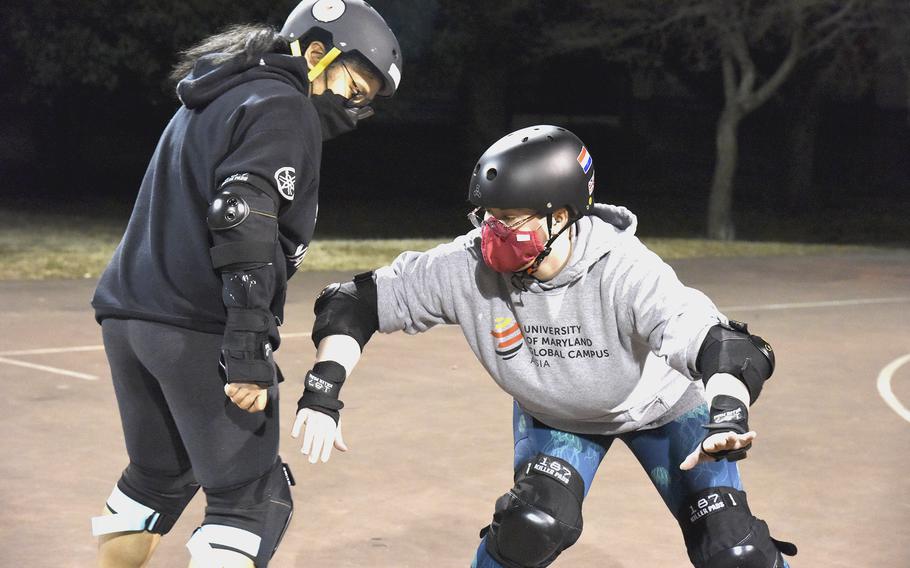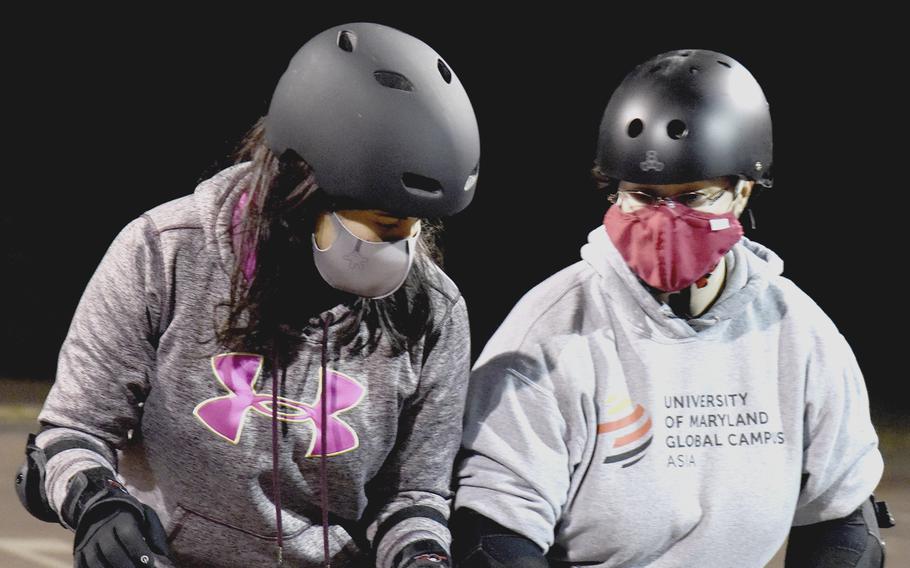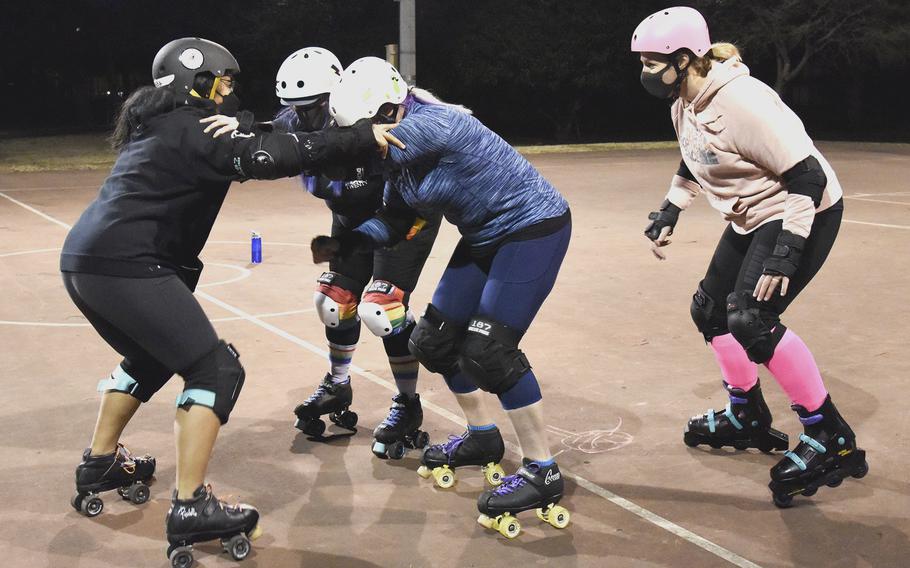 Contemporary roller derby became popular again in Austin, Texas in the early 2000s, according to the Woman's Flat Track Derby Association website. By the early 2010s, over 450 roller derby teams were skating around the world.
The three teams rolling at U.S. military bases in Japan plan to meet soon for competitive matches: the Fuji Flatliners from Yokota, the Sushi Rollers from Yokosuka Naval Base near Yokohama, and the Zama Killer Katanas at Camp Zama, the neighborhood US Army general southwest of Tokyo. .
A regular schedule of games with the other two teams is still in the works, Dunn said Friday. But the Flatliners take on the Killer Katanas from 10 a.m. to noon on April 9 at the old Camp Zama rink. Spectators are welcome, she said.
Opponents sometimes also socialize and practice together.
"It was super fun to do skating nights and practice sessions with the other teams," said Staff Sgt. Vanessa Seay, 29, from Yokota. "I'm really excited to start arranging fights with the Japan teams. They should definitely be worried; we don't call ourselves the Fuji Flatliners for nothing!
A team member's track persona has always been a big deal in the sport. It helps players forget their everyday life and become someone else on the ice.
"We've all come up with our own names," said Hannah Howard, 33, coach of the Flatliners and Killer Katanas. "Mine is Aris Throttle, and who you become on the track and who you become on your team is a version of yourself that you don't have to be when you're at home, with your spouse, with your kids. or at work. It's really, really doing something for yourself, which is nice.
Rules to play
A game is played by two teams of five players, Howard said. Four players are blockers and one is a jammer who scores points by passing opposing players.
Blockers try to prevent the opposing jammer from scoring while helping their own jammer get points. A blocker is the center, who acts as the team's captain.
To score, the jammer must pass through the opposing team within two minutes. The more revolutions the jammer makes, the more points she scores. A match usually lasts one hour.
Team Yokota has no assigned positions, Seay said. She's known as KnockNess Monster, "since I've been going by Nessa with my friends," she said.
"Sometimes I like to go really, really fast if I think I can do it," she said. "So, I play as a jammer then. And sometimes I just feel like blocking and punching.
The three teams have yet to establish a schedule and find venues for their matches. But they are training for the day when they will face each other on the ice.
Tara Culbertson, 50, Nicholasville, Ky., also known as Bettie Rage, a version of 1950s pin-up model Bettie Page, is president of the Killer Katanas. By day, she is the director of morale, welfare and recreation at Naval Air Facility Atsugi, southwest of Tokyo.
Even though the three teams are rivals, they support each other, she said.
"It's actually been so much fun, they've all been so welcoming," Culbertson said. "During COVID we weren't able to train and then the players were PCSed. So all three teams are starting over.
PCS stands for permanent change of station or reassignment to another military base.
"Everyone has been so cool and willing to share information and let other teams come to their events and practices," Culbertson said. "You know, it's normal not to like the other team, between the whistles, but we leave them on the track after that; we are all friends again.