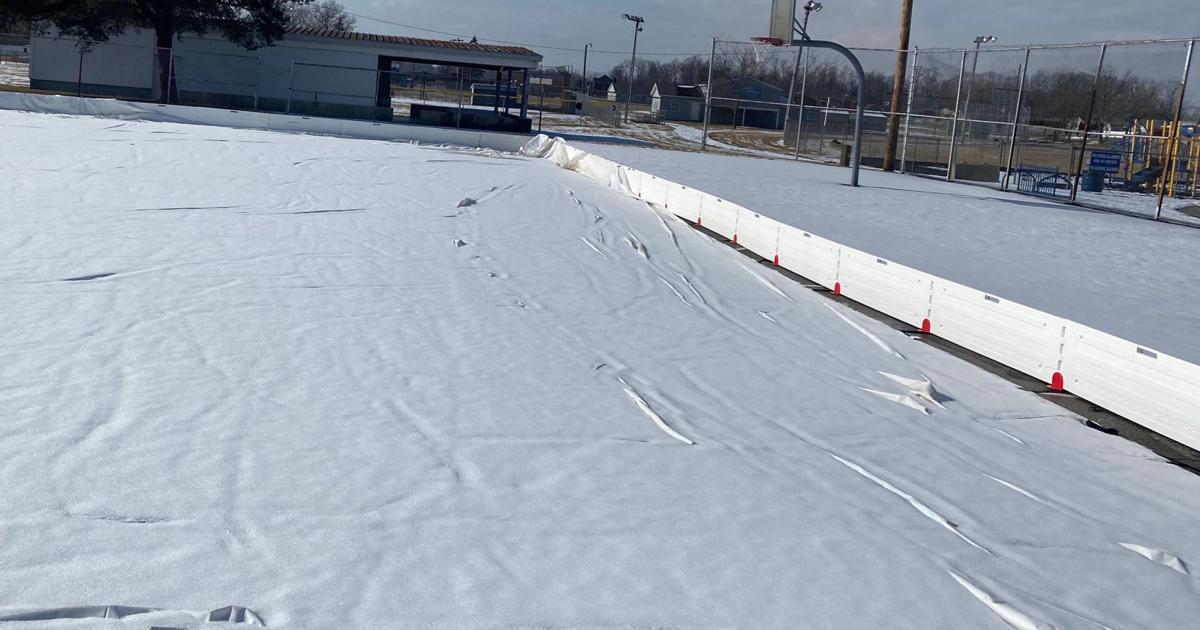 Garrett prepares for the snow storm | The star
GARRETT — A familiar face was added to the Garrett Board of Works during its Feb. 1 session.
Tom Kleeman, who currently sits on Garrett Common Council, was appointed to the three-person board by Mayor Todd Fiandt to fill the position vacated by longtime council member Tom Blotkamp at the end of the year.
Dave Demske, also a member of the Garrett Common Council, and Fiandt complete the board.
Garrett's crews have been busy preparing for the midweek snow event according to Streets and Parks Superintendent Eric Mossberger.
Front plows have already been hooked up to meet the challenge of the 20 inches of snow forecast at Garrett between Wednesday morning and Thursday evening, with blowing and drifting conditions thrown into the mix.
"It will be a challenge for everyone. We are as ready as we can be and we will take it as it comes," he said.
Mossberger compared the forecast snowfall to the 17 inches that fell at Garrett from Wednesday, January 25 to Friday, January 27, 1978.
He reported that the city had received about 100 tons of salt for snow and ice control with another 100 tons on order. Crews have also been busy removing a row of fences along East Warfield Street and clearing Jordan Wetlands in the 1300 block of South Cowen Street.
The city's ice rink in Feick Park has been plagued with numerous issues so far this winter, Mossberger reported.
Currently, most of the water has seeped under the walls of the rink and the outer edge of the canvas has frozen into the remaining ice. Once the liner is released and stretched over the wall, depending on weather conditions, water can be added to bring it up to the correct level of slip.
Three contractor bids were opened at Tuesday's Garrett board meeting for the 2021 Round Two Community Crossings Matching Grant. Estimates ranged from $675,800 from LaOtto's API, 750 $478 from E&B Paving to $859,800 from Brooks Construction, both of Fort Wayne. Offers will be considered and pricing will be announced at the February 15 meeting. The engineering estimate for the project was $817,287, according to city engineer Aaron Ott. Garrett received $577,342.50 in the last grant round.
Code Enforcement Officer Tara Smurr reported 30 code violations between Jan. 18 and Jan. 31, most of them for garbage. So far this year, 57 reduction notices have been served, 12 have been sent to City Hall for billing and 10 reductions have been complied with.
Garrett Police Chief Roland McPherson reported 118 calls for service between Jan. 17 and Jan. 30. There were 27 traffic warnings, three tickets and two city ordinance appeals. The report listed six arrests during the period, including two warrants, and one for trafficking, assault, multiple drug charges, and trespassing, methamphetamine, marijuana and hypoglycemic needle.
Officers counted 143 business checks during the period.
A request for a patrol vehicle will be considered at the council meeting on February 15.
Fire Chief Chad Werkheiser said crews will be at the station from 3 p.m. Wednesday to 3 p.m. Thursday to provide additional emergency backup during the snow event.
City planner Milton Otero said the rerouting of the gas line at 109 S. Randolph St. was delayed due to NIPSCO's 4-6 week delay. The property is slated for demolition by Knott Excavating of LaOtto once the gas line situation is resolved. The downtown building was the site of a fatal fire on February 11, 2019.
The tax abatement committee will meet at 6 p.m. on Tuesday, March 1, to consider a tax abatement for Mossberg Industries at Garrett, followed by its recommendation to the Garrett Common Council later that night, Otero said.
So far this year, Otero has recorded 25 improvement location permits and three dangerous building code violations.
Water Services Superintendent Pat Kleeman has reported several water main breaks so far this year and hopes to get the department's dump truck back into service to help with snow removal.
Demske praised the city's snow removal efforts a few weeks ago, noting compliments from people outside the community. He added that he hoped residents would stay indoors during the coming snowfall and let workers do the work.
Fiandt said Garrett will follow DeKalb County guidelines regarding emergency plans during the weather event.
A telephone changeover is scheduled for February 17 at the town hall. Clerk-Treasurer Marcie Conkle reminds residents that the phone lines to City Hall will be out of service that day due to the change.
Superintendent Marcy Coe reported freezing problems at the treatment plant earlier this year, but the situation has since been corrected. Garrett sent a total of 147,000 gallons of sludge to Steuben Lakes and Auburn in January for treatment, she added.