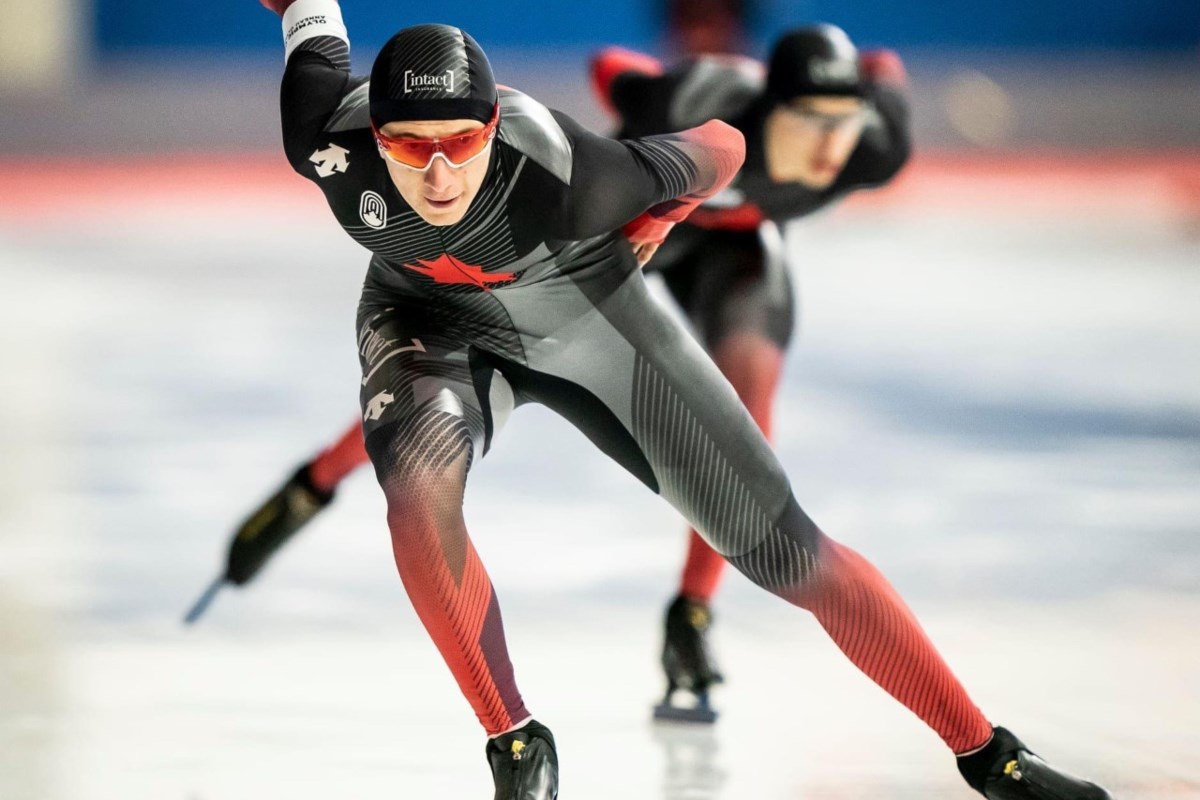 Howe, Olympic speed skating prospect, impresses with gold at nationals
New national speed skating champion and native of Canmore, Connor Howe, has had a great start to the Olympic season.
CALGARY – There's a new Canadian 1,500-meter speed skating champion and he's from Canmore.
Connor Howe, a 21-year-old Olympic Winter Games prospect, gained confidence in his ever-increasing chances of qualifying for Beijing with a gold medal at the 2021 Canadian Long Track Championships in Calgary last Saturday (October 16) .
"This is the first time that I have been able to do a top level race in the fall and if I can improve further it is a good sign," said Howe, a long track specialist.
"It's my first Canadian championship victory, so it gives me confidence, that's for sure. The last two seasons we've been able to run I haven't [my flow] more until winter, so it's a good sign that it happened in the fall. "
The new men's national champion clocked a time of 1: 43.50, more than a second faster than silver medalist Antoine Gélinas-Beaulieu.
The long track championships were held Oct. 13-17 at the Olympic Oval in Calgary, where Howe finished ninth in the 500m and fifth in the 1000m over the five days of competition. In the 1000m, the Canmore native finished with a time of 1: 08.02, just milliseconds from a place on the podium.
Fifth place gave him more motivation to attack the 1500m quickly and aggressively.
"I have the speed so you might as well try to use it," said Howe, who believes he is skating up to 60 km / h over 1,500m. "The 1000 from the day before, I had a little problem with another skate in the crossover in the backstretch, so I messed up my run a bit and wanted the 1500 a bit more."
Howe has gone from a promising prospect to watch over the past few years to a quick and furious medal threat, especially last season where he won his first World Cup and World Championship podiums in the team pursuit. and achieved a sixth career record in the 1,500m. on the international scene.
The huge victory on Canadian soil last weekend saw Howe head overseas again for the International Skating Union World Cups which kick off Nov. 11 in Poland. For a month, Howe faces off against Beijing's best and potential enemies in the world to determine by points who are the participants in the 2022 Winter Olympics.
"This is my big goal and I think it's doable … I think I should be able to [qualify] at the world cups, "said Howe, a former student of Banff / Canmore speed skating.
"We will be on the road and away a bit, so staying focused, like continuing my plan so that I can rehearse what I did and what happened this weekend, I can continue."
Other World Cup stops include Norway (November 18-20), Salt Lake City, USA (December 2-4) and the races end in Calgary from December 9-11.
One last chance to qualify for the Winter Olympics from December 27 to 31 in Quebec City.