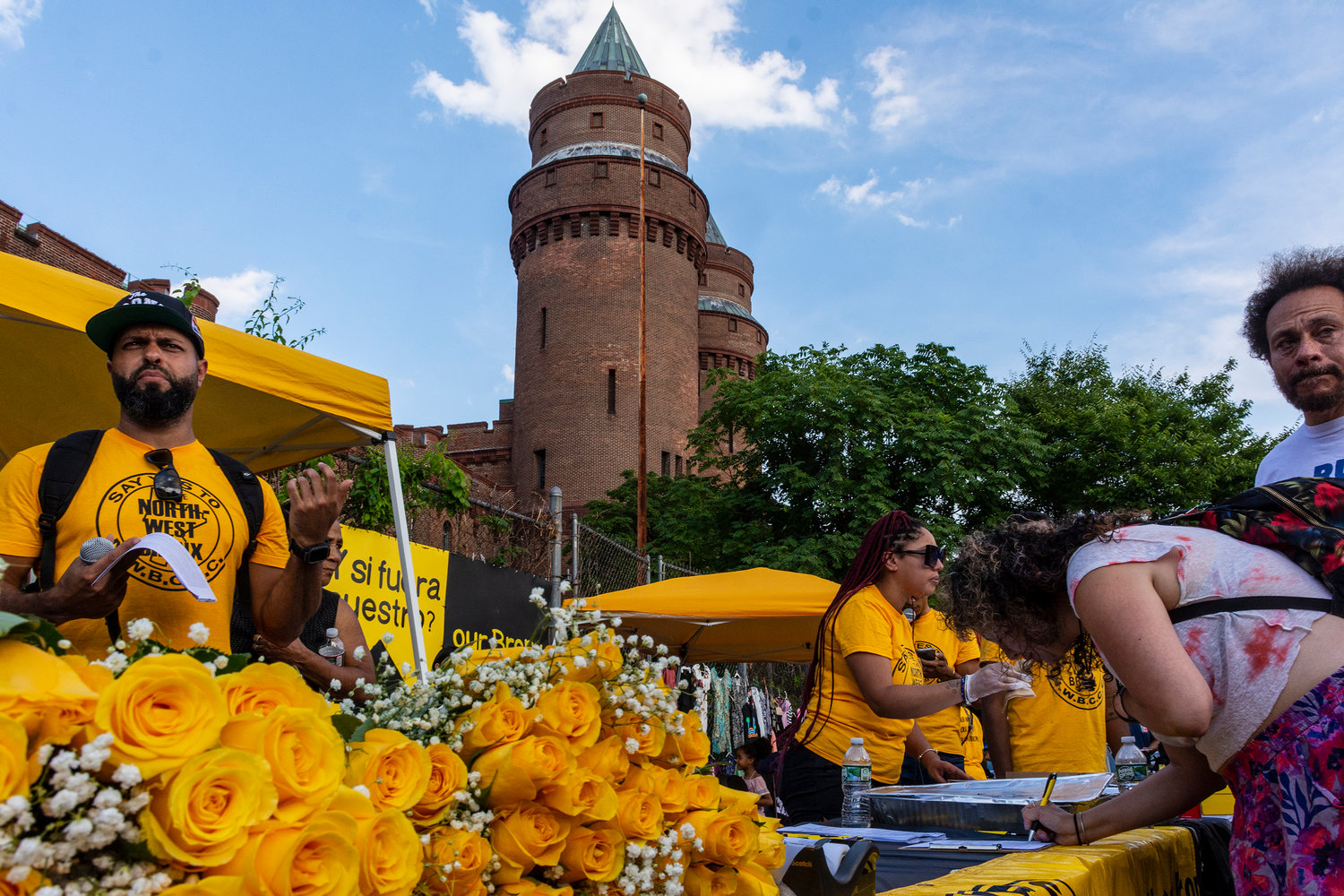 Kingsbridge Armory prepares for a new battle | The Riverdale Press
By Abigail Nehring
Pigeons nest in its ceiling trusses while powdery white efflorescence spreads across its brickwork – a sure sign of excess humidity.
The Kingsbridge Armory has been more or less vacant since it was decommissioned by the New York National Guard and turned over to the city in the 1990s. Plans to redevelop the former home of the Eighth Guards Regiment have failed under a succession of mayors, culminating in the failure of the privately-owned Kingsbridge National Ice Center late last year.
But as of now, the New York City Economic Development Corp. says she is ready to turn a new page.
"We want to make a fresh start," an EDC spokesperson said on Monday.
In the coming months, officials will research the site and speak with those who have a stake in what happens to it, he said. The goal is to develop a "public vision" document, allowing EDC to entertain ideas for future use.
The Armory – a monumental, turreted brick building set on 5 acres of city-owned land at 29 W. Kingsbridge Road – is part of a portfolio of income-generating properties handed over to EDC by the city for scrutiny quasi-public of their transfer or lease to promoters.
Kingsbridge Heights has its own ideas about the future of the Armory. Some 150 people gathered last week outside the century-old structure where a vibrant informal market flourishes amid cracks and sinkholes in the sidewalk. Organizers handed out flyers to passers-by and offered yellow roses to about 100 vendors who sell their wares on the bustling strip.
Students from two nearby public schools as well as congregants from New Day Church and members of Labor Local 79 made up the rest of the crowd. They wove plastic tiles into the chain-link fence to form a colorful mosaic, then stood back to observe their work, which read "our armory" in three-foot letters.
The Northwest Bronx Community and Clergy Coalition first fought to make Kingsbridge Armory an economic development priority more than two decades ago, and is once again leading the charge. The Clergy Coalition allied with labor groups and faith leaders in 2012 to secure paid jobs and space for local nonprofits as part of the city's plan to transform the Armory into a huge sports center with nine ice rinks.
This also included a 5,000-seat central ice rink.
They emerged from negotiations with EDC and developers with a deal in hand guaranteeing $11.50 an hour for on-site jobs and a hiring preference for local workers.
These provisions and the Community Benefits Agreement that codified them now belong to another era.
"Economic development is created to give the executive office – the mayor – the flexibility to make new developments on the theory that labor contracts and city charter requirements are a hindrance," said Tom Angotti. , professor emeritus of urban planning at CUNY. "EDC is a way around that."
Other properties managed by EDC have been threatened when developers or tenants said they would simply move to another location. That's exactly what Pfizer did in 2010 after receiving millions in grants to entice it to stay in New York.
At Kingsbridge Armory, plans to build the world's largest ice skating center have slowly died out in litigation after KNIC failed to secure full funding for the project. It dragged on for almost 10 years before finally falling into shambles in 2021.
A Bronx Supreme Court ruling quashed the developer's final offer to keep the project alive, and EDC confirmed last December that it would not proceed with them. Today, some 30 years after the city took possession of the Armory, the process is starting from scratch.
"So what does this mean for us?" This means that we have six months to come together to engage and ensure that values ​​and principles, community priorities and project ideas must all be included by all of you participating in the process," told the crowd. Northwest Bronx organizer Juan Nuñez. gathered at the Armory last week.
Some of those present have watched the drama unfold their entire lives.
"We young people have a lot to offer in this process," said Alex Medina, a local high school student and youth leader at Sistas and Brothas United. "We have a lot to gain – and a lot to lose, depending on what happens with the Armory."
According to Medina teacher Stefina Fisher, learning the history of the Kingsbridge Armory left her students appalled.
"They were really frustrated," she said, "and they said things like, 'See? We can't get nice things for the Bronx. Why is this happening?'"
The Fisher students have their own ideas for the Armory: free sports facilities, places to relax and a place to study with mental health services.
The crowd was dotted with the red shirts of workers' Local 79 members. The union was an ally in the fight for a living wage clause in EDC's contract with KNIC, and wants to ensure these efforts are part of future plans.
"Change is inevitable," said Local-79 executive board member Barrie Smith. "But we want to make sure the people who live here – who were born and raised here – can be on board with this change.
Northwest Bronx organizers revamped their economic development strategy earlier this year, hiring a full-time chief to reinvigorate their decades-old campaign for a transparent and fair Armory redevelopment process.
"It's important to understand that a lot has changed since 2013," said chief executive Sandra Lobo. "Anything that happens inside the Armory should not compete with the outside of the Armory, which is now a thriving commercial corridor. We want to complement local commerce. We organize ourselves to educate people because many don't know that the previous project failed.
"EDC is launching its formal community vision process," Lobo added. "The clock has started ticking."
While EDC has been in contact with various interested parties, spokesperson Nico Aguilar said he could not speak to what EDC had planned beyond that it was conducting its own community engagement and his own research.
Industry City chief executive Andrew Kimball now leads the EDC. Mayor's choice Eric Adams previously lost the rezoning of Sunset Park in Brooklyn.
"When Bloomberg was mayor, he gave the EDC a little more leeway," Angotti said. "He's done that with most of his commissioners, unlike some of the other mayors who tend to micromanage things and want to interfere.
"You need community groups fighting to take control of the land. As always, it depends on the organization. There are many examples of communities coming together and succeeding.
Abigail Nehring is a corps member of Report for America, a national service program that places reporters in local newsrooms.