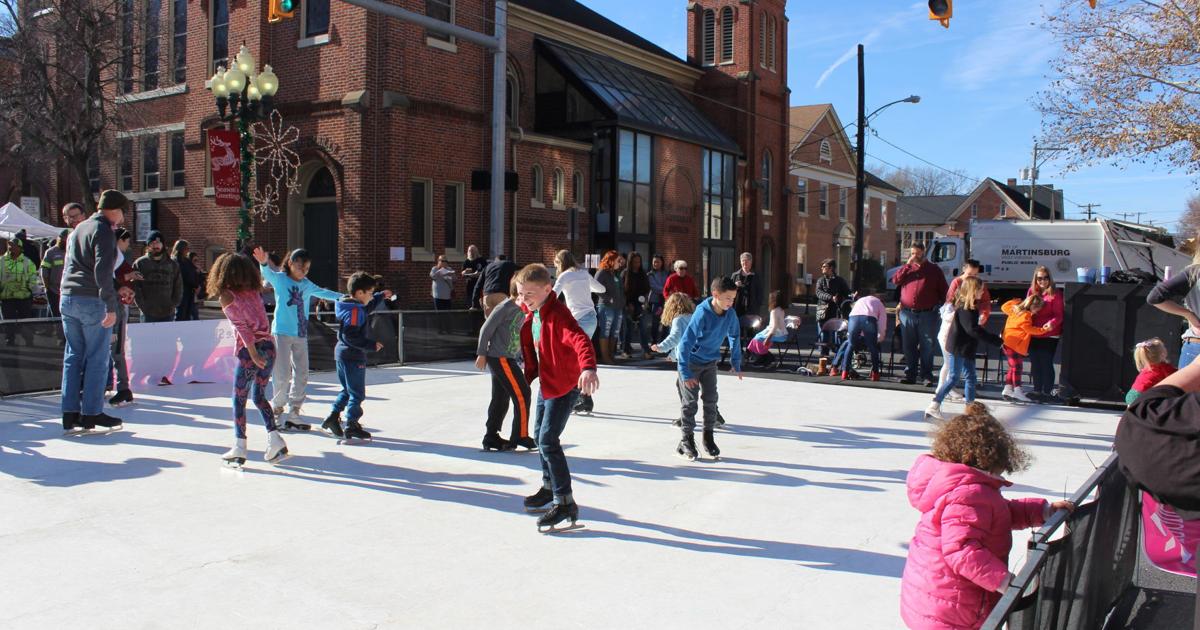 Martinsburg hosts Christmas on the Main with ice skating, food, music and more | Newspaper
Editor's Note: For a photo slideshow, visit this story on the Journal's website at journal-news.net.
MARTINSBURG – Christmas on the Main welcomed the kids and the kind-hearted to Martinsburg on Saturday as the crowds enjoyed a festive atmosphere while enjoying balmy weather and sunshine.
Queen Street was closed from Race Street to King Street for the Holiday Street Fair. Some came to see the food vendors or browse the arts and crafts vendors.
"We went out for the day on a beautiful Saturday with wonderful weather," said Chad Pence, a school principal with his wife Stacy and daughter. He said they wanted to eat good food and visit local traders. He said his daughter would probably try ice skating.
"We're going to be checking out Fed Up and Toasted for grilled cheese, and a few companies that we want to stop and support," Pence added. "They did a great job of installing and I love the way they closed the streets to make them safer."
About 10 food trucks and over 20 art vendors sold their wares. Items could be found for unique gifts such as local honey, soaps, jewelry, or holiday themed products.
Others took advantage of special activities with their children. There was a constant line up at the ticket office for the horse-drawn carriage rides and "ice skating" on Queen Street.
Many children and some grown-ups have tried the very first Boston-based company rink on Queen Street near the Shenandoah Hotel. The cost was covered by T-Mobile, and the ticket proceeds were directly used to purchase new vacation decorations for downtown Martinsburg. There was no real ice, but a plastic-like surface put together like puzzle pieces.
The kids wore ice skates and tried to keep their balance while the rink staff sprayed them to make it even more slippery. Most couldn't stand for long at a time, but despite all the falls, there were no complaints from the participants.
Pamela Brenes saw her 7-year-old son Lucas skate for the first time.
"It's a very wonderful first experience," said Brenes. "The joy on her face is worth all the falls. They all smile and get up straight away.
"It's fun," Lucas Brenes said enthusiastically. "I learned to walk and turn," he demonstrated. He said he hoped to skate all day.
The library hosted a session of fun activities for the kids like throwing 'snowball' at cartoon characters (really sweet craft balls), make and take out ornaments and 'snow'. ".
Employees Shanda, Michelle and Gretchen helped the children make ornaments. Director of Adult Services Sarah Shewbridge and Director of Youth Services Amy Eakle helped children make homemade snow.
Shewbridge said snow dough is a type of homemade play dough that looks like snow. They found the recipe on Pinterest. Use two tablespoons of conditioner for every three quarters of a cup of baking soda.
"It looks like snow and it's actually quite cold," Shewbridge said. "It has become popular. "
Some children put the "snow" in sandwich bags to make later, and others put it inside their clear plastic ornaments they were making. 8-year-old Aubrey Hartman made snow and an ornament while her grandmother Linda Fontaine watched. She said that before making any ornaments, the little girl had tried skating.
"She fell a lot but did her best," Fontaine said.
The day's festivities were crowned with the annual tree-lighting ceremony in the square.
The Belle Boyd House was open during the day and open 5-7 p.m. for Christmas tours and light refreshments.
The Apollo Civic Theater hosted a free screening of "It's a Wonderful Life" on Saturday after the trees were lit.
On the evening of Saturday and Sunday, General Adam Stephen's home hosted a candlelight tour as visitors traveled back in time to 1771 for Colonial Christmas. This year was chosen, pending the 250th anniversary of the founding of Berkeley County in 1772. Dr. Stephen was a distinguished War of Independence veteran and a major general and founder of Martinsburg.
The house will be decorated with colonial period "Williamsburg style" decorations using lots of evergreens, fruits, nuts and berries. The house will be lit by candlelight and visitors will take a guided tour through the rooms. Tour guides will discuss local events in 1771 and explain what family members could have done to prepare for the upcoming vacation in each of the rooms.
"We normally have hundreds of people in attendance every weekend," said curator Keith Hammersla.
A Christmas shop offering Christmas decorations and small gifts will be open in the Triple Brick Museum, and hot chocolate and cookies will be served on the lower level of the Triple Brick Building. Outside, weather permitting, there will be light fixtures lighting the path to the house and a campfire with living historians on the lower lawn.
Colonial Christmas continues from December 11 to 12 from 4 p.m. to 8 p.m. Music will be provided by Sean Reidy on the small bagpipe and Susan Benson on the pianoforte.
Berkeley Art Works will have St. Nick's Market until December 24 from 11 a.m. to 5 p.m. Thursday, 11 a.m. to 8 p.m. Friday, 11 a.m. to 4 p.m. Saturday, and 12 p.m. to 3 p.m. Sunday . Santa can be visited at Flowers Unlimited every Friday from 3 p.m. to 5 p.m. until December 25, Wednesdays from 2 p.m. to 5 p.m. and Saturdays from 11 a.m. to 3 p.m.
A Very Apollo Christmas will take place on December 10 and 11 at 8 p.m. and December 12 at 2:30 p.m.
Jingle Downtown to benefit Christmas Cash for Kids is Monday from 5 p.m. to 8 p.m. The Main Street Martinsburg Christmas Parade is Tuesday at 6 p.m.
Main Street Martinsburg Apple Drop will be downtown on December 31 from 4:30 p.m. to 6 p.m., rain or shine.
Check the Main Street Martinsburg website or the Main Street Martinsburg Facebook page for more information, or individual location Facebook pages and websites.