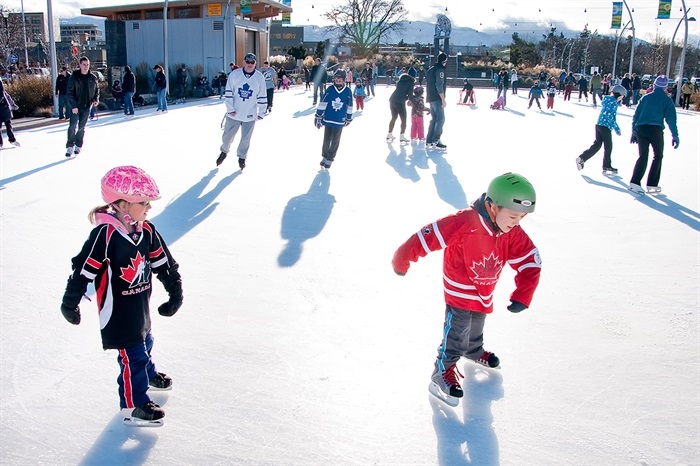 More Outdoor Skating Options in Thompson-Okanagan This Winter | iINFOnews
[ad_1]
December 19, 2021 – 5:33 PM
Two new outdoor rinks are available this winter in the Okanagan.
The Vernon Centennial Outdoor Rink had some mechanical issues last year, so it didn't open. Its normal opening on December 1 was delayed due to unusually warm weather this winter, but the rink is now open.
It is located at the city's recreational park at 3310 – 37 ave. Click here for more information on timetables. Skating is free. Helmets are compulsory for all skaters under 10 years old.
READ MORE: Map of the best holiday lights in Vernon 2021
The Activate Penticton Society rushed to raise enough money this fall to open an outdoor rink at 107 Martin Street.
The delivery of the equipment slowed the project down, but a concrete slab was poured and the ice making equipment is being installed.
The goal is to open it by Christmas, December 25.
READ MORE: Penticton 2021 Best Holiday Lights Map
Kelowna's Stuart Park at 1430 Water Street across from City Hall is now open. This is for recreational use only, so no hockey sticks are allowed. Skate rentals are available on site and skating is free.
The following is a list of outdoor rinks that we have found in the Thompson and Okanagan areas. Check the websites of cities, ski resorts and regional districts for more information on openings and restrictions.
SKATING IN THE REGION'S SKI RESORTS
Most of the Thompson-Okanagan ski resorts offer outdoor skating opportunities.
Big White Ski Resort, about 60 kilometers southwest of Kelowna, says it has the tallest outdoor rink in Canada. Skating is free and skates, helmets and hockey sticks can be rented. The opening date has not yet been set.
Sun Peaks Resort, about 45 minutes north of Kamloops, has an NHL-sized ice rink open to the public. No rentals are available at the moment but it's open now. Get more information here.
The Silver Star Resort in Vernon, about 12 miles northeast of Vernon, uses Brewer's Pond's 2.5-acre frozen surface as an ice rink, accommodating figure skaters and occasional hockey players. Get more information here.
Apex Mountain Resort, about 33 km west of Penticton, has a skating loop that users can even enjoy at night. Skate rentals are available. There is a charge for using the skating loop. Get more information here.
OUTDOOR SKATING RINKS
The City of Kamloops has established areas in a number of parks where ice surfaces can be created. Local community groups are working with the City to build the outdoor rinks, which are dependent on the weather, COVID-19 restrictions and the availability of volunteers. Below is a list of municipal parks that can house an outdoor skating rink:
Westsyde Centennial Park, 705 Franklin Road
Juniper Park, 2150, boul. What calls
Thompson Park, 6500 Beaver Cres.
Centennial Valleyview Park, 2288 Park Drive.
Len Haughton Park, 595 Lister Road.
Pineview Valley Park, 1925 Hugh Allan Drive.
Tourism Kamloops also suggests Albert McGowan Park, Stake Lake, Inks Lake, Little Heffley Lake, and Shumway Lake. Get more information here.
The Kamloops Outdoor Skating Association will begin clearing snow from Inks Lake this weekend.
As with any rink on a lake, take extra care to make sure the ice is thick enough.
READ MORE: Kamloops 2021 Best Holiday Lights Map
These four rinks are open or planned for this season by the Regional District of Columbia Shuswap. Check out their website here for more information.
Parson Community Park 3612 Hwy 95, Parson is listed as open.
Farrell's Field at 5051 Meadow Creek Road, Celista.
Sorrento-Blind Bay Community Park at 2670 Davidson Rd, Sorrento.
Silver Creek Community Park at 1577 Salmon River Road, Silver Creek.
In addition to Kelowna's Stuart Park, at least two other outdoor rinks will soon open in the central Okanagan. Both are free and available on a first come, first served basis.
There is a full-size ice rink next to the Joe Rich Community Center on Hwy 33 with boards, outdoor lighting, and an outdoor toilet. Due to COVID, the changing rooms are not being used this year.
The Scotty Creek Rink is on a multi-purpose sports surface and therefore does not have hockey boards.
READ MORE: Kelowna 2021 Best Christmas Lights Map
More information on opening days can be found here.
In the South Okanagan, Penticton's Lakeside Resort operates a fully-lit ice rink on the resort's waterfront. Skaters are recommended to contact reception at 250-493-8221 to verify previous reservations or to reserve for group use. It is currently listed as closed for the season.
Let us know where some of your favorite skating spots are in the comments below.
– With files from Carli Berry
---
To contact a reporter for this story, email Rob Munro or call 250-808-0143 or send an email to the editor. You can also submit photos, videos or topical tips in the newsroom and be entered to win a monthly raffle.
We appreciate your comments and opinions on our stories, but let's play it right. We will not censor or remove comments unless they contain irrelevant statements or links, unnecessary vulgarity, false facts, spam, or clearly false profiles. If you have any concerns about what you see in the comments, email the editor through the link above.

News from © iINFOnews, 2021


[ad_2]