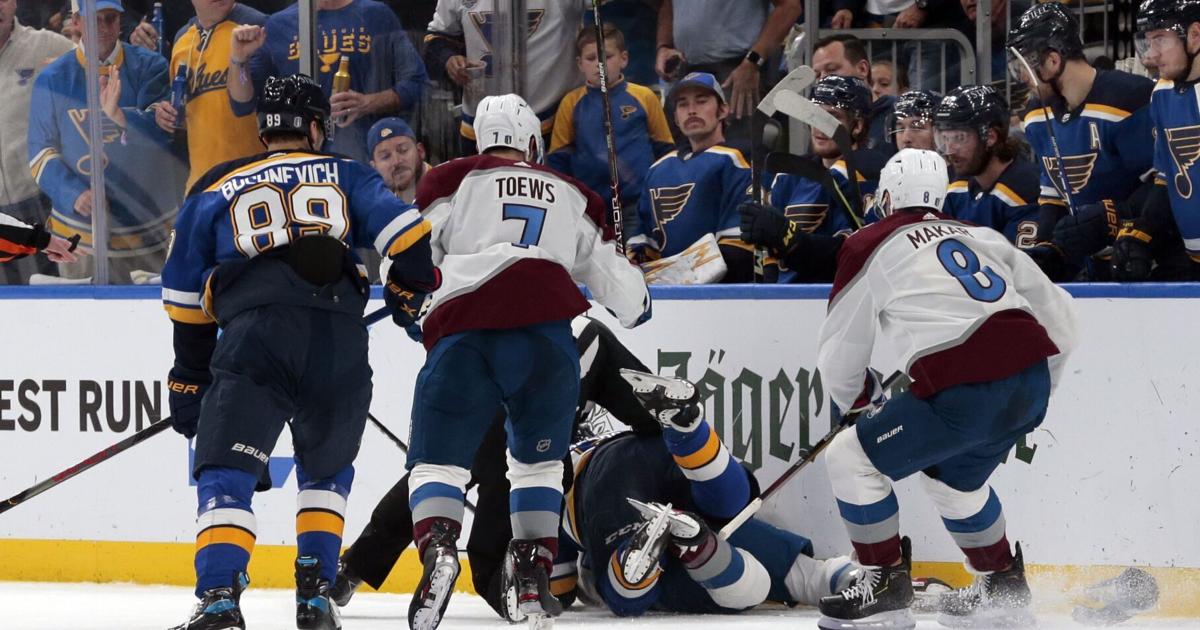 Notebook of the Blues: Perron fined $5,000 for cross-checking Kadri | St. Louis Blues
The Blues went flat (and stayed mostly flat) in Game 4 on Monday, and one of the few players to show any emotion will pay the price.
If it wasn't bad enough Nazem Kadri scored a hat trick against the Blues in Game 4, it also earned the Blues a fine after David Perron was fined $5,000 by the department. of league player safety, the maximum allowed, for Kadri's cross-check. in the second period.
Perron's countercheck came near the end of a streak that looked set to end this way. It started with Pavel Buchnevich hitting Kadri behind the Colorado goal (Buchnevich raised his elbow on the spot) and the two skated onto the ice behind the play. After the whistle, Kadri ran into Perron, who had taken a course that cut right past Kadri, which staggered him, then Buchnevich came in and hit Kadri, sending him to the ice. Just as Kadri was getting up, Perron came in with a cross check to send him back on the ice and soon several players were involved. Perron said after the game that he was looking to create a spark for the team.
Buchnevich (rough) and Perron (cross check) both got minor play penalties, while Kadri and the Avalanche got nothing, giving Colorado a two-minute advantage at 5-3. While the Blues killed the penalty, when Perron and Buchnevich came out of the box and back into the game, no one picked up Kadri, who scored a goal that made it 4-1.
"I don't think it was just him," Perron said Monday night. "It was about creating a spark. We were leading 1-0, we had three shots or whatever in the first and they were leading 3-1. I just didn't feel like we had a lot of perspective. And I kind of saw Buch there. These things can happen that turn out to be 4 on 4. I thought the referees probably made the right call. But we're just trying to create a spark. We had a huge kill and we were talking in the box – and we're like, if we kill this, we have to turn it around.
"They score right after, but we kind of felt we had more energy afterwards. But that was sort of the reason, not necessarily targeting anyone.
Even after the match, Kadri continued to give the Blues a hard time.
"I mean, I thought someone was going to have something to say, but it was just stupid penalties that we took and it hurt them," Kadri said. "If you lose your temper, we'll make you pay."
The money goes to the players' emergency relief fund.
No longer a child
People often remember what they were like when someone first met them. It is the moment that is frozen in the head.
So for many in St. Louis, Avalanche defenseman Erik Johnson will always be the kid the Blues drafted with the No. 1 overall pick in 2006 and who made his debut for the team at age 19 in 2007. Now he is 34 and knows time is running out for his career.
"You don't get a lot of fun winning the Stanley Cup," he said. "I'm getting a bit older, I'm 34, you never know how many chances you're going to have. So I just tried to take it to a new level and do whatever I can to help this team to achieve this. I will continue to do so until we achieve our goal.
Johnson scored his first goal of this playoffs early in the second period of Game 4 to start Colorado's quick turnaround in the game. It's his fourth playoff goal in a 14-year career in which he's only made the playoffs four times, all with the Avalanche, who he joined in 2011 in a trade with Chris Stewart. and Kevin Shattenkirk.
"It's good to have one, even the score of a big tie there to take us forward," he said. "It was really good."
Remarks
Perron's power-play goal was his eighth in the playoffs with the Blues, tying him with Brian Sutter and Al MacInnis for fifth in franchise history with eight.
The Blues have recovered from a 3-1 deficit twice in their history, most recently against Phoenix in 1999. The other against Detroit in 1991.
The AHL Playoff Divisional Finals are underway and five of the eight teams still in it are affiliated with the eight teams that made the NHL Divisional Finals: Florida, Carolina, Colorado, Calgary and the Blues and one sixth NHL playoff team that exited in the first round, Nashville, has its farm team still alive. The only non-playoff NHL teams to have surviving affiliates in the AHL playoffs are Montreal (Laval) and Buffalo (Rochester). Colorado's ECHL team, the Utah Grizzlies, is also still in competition, making them the only team to be active in the playoffs at all three levels of North American professional hockey. The Blues are one of five NHL teams to not have an ECHL affiliate; the others are Los Angeles, San Jose, Vancouver and Winnipeg.