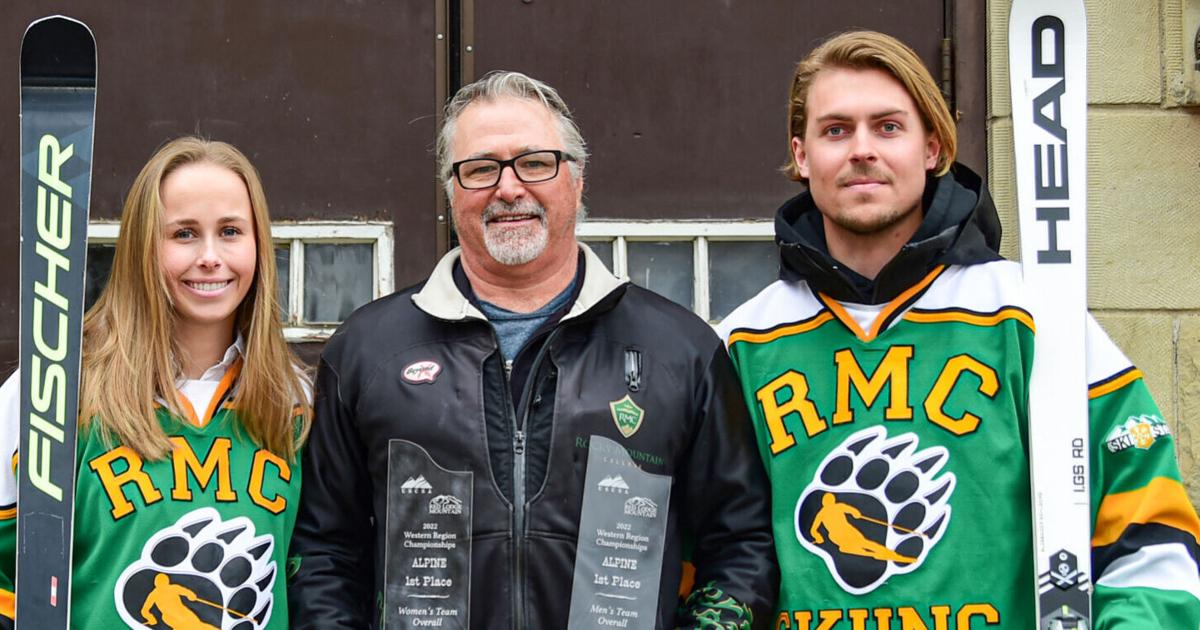 Rocky Mountain College Ski Race Team 'Secret Potion' Has Fun, Skis Well For Teammates | College of the Rockies
BILLING — They might be called the Rocky Mountain College Battlin' Bears, but these ski racing teammates certainly aren't fighting each other.
Instead, they're set to take on the competition next week at the United States Collegiate Ski and Snowboard Association's 43rd Annual National Championships.
Members of the Bears team care about the success of the whole as they compete in the Sunday-Saturday event at Whiteface Mountain near Lake Placid, New York.
"The ultimate goal is to do well for your team," said Rocky junior Alexander Sehlberg of Sweden, who finished second overall at the 2020 nationals.
Rocky is coming off the men's and women's All Alpine Team titles at the USCSA West Region Championships at Red Lodge Feb. 24-26. The men and women of the Battlin' Bears also won the giant slalom and slalom team titles en route to the overall crowns.
RMC coach Jerry Wolf, who is in his 21st year in charge of the Bears, said his men have now won 12 straight regional titles and the women have won 10 straight years. Additionally, both men and women have qualified for national championships each year Wolf has coached the Bears.
This year's men's and women's teams peak at the right time, Wolf said.
"Their performance was really good and consistent," said the veteran coach of the men's and women's teams that competed in the regional championships. "Everyone was finishing and everyone skied very well. There was no moment of panic because it was a qualification for the nationals.
It's what we've been waiting for
Last year there was no national competition because of the coronavirus pandemic, so the Rocky's men are the defending national champions overall as the Bears won their seventh overall alpine championship in 2020 at Whiteface Mountain. The Bears also won the GS and Slalom national championships in 2020.
Sophomore RMC Norwegian Hilde Sato, who won the women's overall, giant slalom and women's slalom titles at regionals, is in her second year at Rocky. And while the Bears skied a limited schedule last year, she's excited for her first trip to the nationals.
"We're finally able to travel more and we're competing more than last year now," she said. "Now we finally have nationals, something to work towards. It was definitely a good year compared to the COVID year.
The Rocky men are looking to add an eighth national crown to their collection. In addition to his overall alpine title in 2020, RMC was men's national champion in 2005, 2007, 2011, 2016, 2017 and 2018.
"This is the competition we've been waiting for all season," said Sehlberg, the overall champion in the giant slalom and western region slalom. "We went there, the regionals, and we did well and the ultimate goal is to do well at the nationals. We know we have strong competition. But I hope we do well and get another ring.
The Rocky's women finished tied for seventh in overall alpine team scoring at nationals in 2020. However, with this year's regional title, the Bears feel confident in their chances of challenging for a championship through team. Overall, Rocky has won three National Women's Alpine Skiing titles with championships in 2014, 2017 and 2018.
"We are a solid team," said Sato. "Everyone is strong and worked for Nationals. We definitely have a chance to go home with a title.
"Mentally we have to be fit and push each other, and push a bit more, and finish the course."
Wolf said he believes the Bears will compete for the men's and women's national alpine combined titles.
"Anything short of a win would be disappointing," he said. "It wouldn't be the end of the world, but it wouldn't be the reason we came here. I can say the same for the ladies. We have the talent.
Race for their teammates
Besides talent, part of the reason the Bears are doing so well this year is team proximity.
The Bears not only ski for themselves, but also for their teammates.
A USCSA press release said Friday, "USCSA is the only ski and snowboard league where colleges and universities compete and qualify for post-season competition as a team. This focus on team performance is a departure from the typical individual scoring or World Cup format often found in skiing.
The Bears firmly believe in winning or losing as a team.
"College ski racing is different from international ski racing where you only compete for yourself," Sehlberg said.
By building team chemistry, the Bears are having a lot of fun away from the ski resort.
Don't forget the hockey skates
The vans carrying the Rocky Mountain College Ski Team can get a bit crowded at times.
After all, the Battlin' Bears have to make room for hockey sticks and skates.
"First priority is all poles, skis and equipment," Sehlberg said. "But, if we have space left, we also put the skates there."
The Bears train at Red Lodge and have also competed there a few times this year. Wolf explained that there is a park at Red Lodge with an outdoor skating rink where the bears sometimes stop.
While at the park, Sehlberg enjoys a pick-up hockey game with his ski racing teammates in their free time.
"The chemistry in the team not only on the ski slope but also off it," Sehlberg said. "We organize dinners and fun activities and play hockey between practices.
"When there is no snow outside, we play soccer. We try to do fun activities and we play volleyball in Rose Park and have barbecues and try to build chemistry with the whole team.
Although she doesn't attend hockey games, Sato said it's been nice to take a break and bond with her Battlin' Bears ski competition teammates when she's not attending lessons, does not study, does not go to training or competition, to practice or ski competition.
"We barbecue, volleyball and hang out," she said. "We play football and have movie night and we do a lot of things together. We go out and eat or dine as a team together. It's really nice."
Sato said she definitely enjoyed her time at Rocky.
"I wanted to combine skiing and school and I was talking to a friend who went here a few years ago and they recommended Rocky to me," she said. "I'm really happy and happy to have come. I'm having fun.
Wolf said the whole Rocky experience is one his team values; and as a bonus, it helps them perform well on the ski slopes.
"The team not only skis well, but they have fun and are middle schoolers doing well what they love," he said. "It really makes me feel comfortable.
"Everyone is having fun and having a good time and trying to do well for their teammates. That's our secret potion.
REMARKS: For Rocky's alpine team, Sunday and Monday in Lake Placid will be training days. Tuesday will be the women's GS, Wednesday the men's GS, Thursday the women's slalom and Friday the men's slalom. On Saturday March 12, the men's and women's two-panel slaloms will take place. Although the double panel slalom races are alpine events, these two races are not calculated in the overall score of the alpine team. The men's skier cross will take place on Tuesday and the women's skier cross on Wednesday. Ski cross competitions are freeski events.