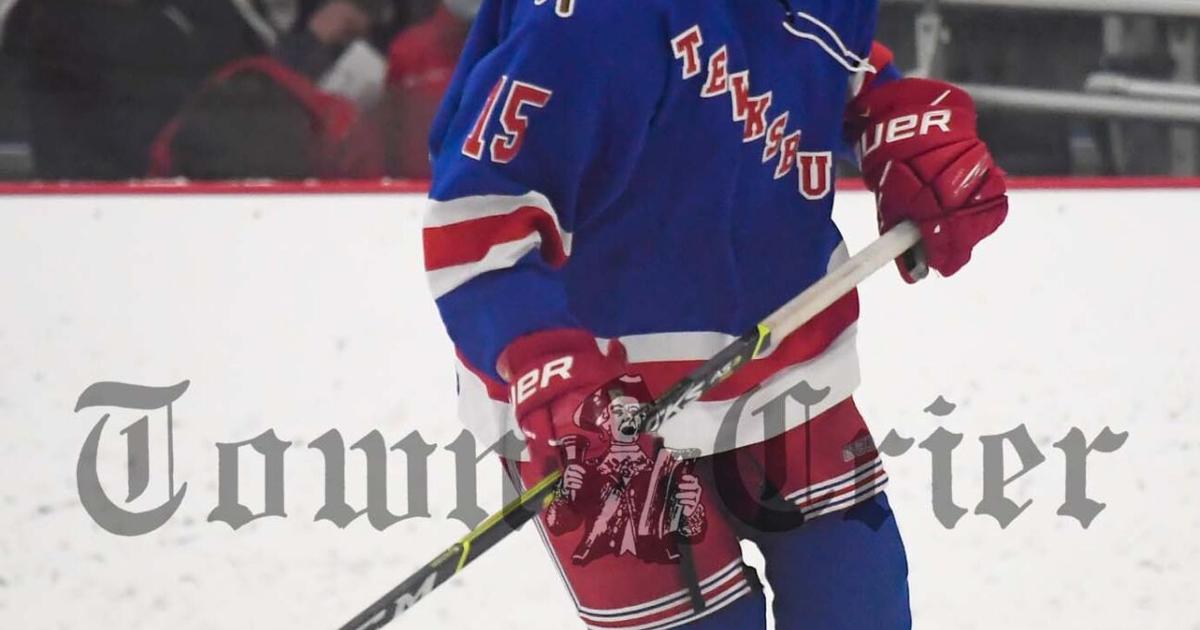 Senior has matured on and off the ice and is having a big season: After an adjustment, Sean skates in the right lane | Sports
TEWKSBURY — Sometimes there are sports stories that are bigger or better than Xs and O's, stats and accomplishments.
A good example of this is Tewksbury Memorial High School senior Sean Lane, who has come a long way both on and off the ice.
Now in his fourth season with the Redmen Boys hockey team, Lane in his early years spent a lot of time in the penalty box, mostly for unnecessary infractions.
Part of a dynamic second line, which includes two extremely talented sophomores, Matt Cooke and Tyler Barnes, Lane has made an incredible leap as a hockey player and is having a terrific season, his best yet. If you ask him, it's just the maturing process.
"It's just (about) growing up. From me at 15 to me at 18, there has been a lot of growth. I started to focus more and realized it was more fun to be on the ice rather than in the penalty box," he said with a big laugh. "It's more fun to score a goal and then you can tweet (about the opposing players) instead of tweeting about them the whole game."
In the 2018-19 season, Lane was one of the talented freshmen who made the team and saw regular ice time. He alternated between the third and fourth lines of a team that advanced to the state championship game, losing to Canton at TD Garden. The hope is to return as this year's team is full of talent with Lane as a key member.
"Sean has good hands, he sees the ice so well, he's patient with the puck, he makes good decisions and maybe (this improvement) is due to the fact that he's been there for four years, which know? He's adapted really well to the game, especially with our types of systems and things like that, he's been fantastic," head coach Derek Doherty said. "I moved that whole line on the power play with Caden Connors and Jason Cooke and it's very dangerous. They move the puck so well, they talk and they're all super skilled, so that's good.
Heading into this season, Doherty had a problem – a good problem finding places for everyone, especially on the front row where he had ten talented kids, all of whom deserve to be there. Lane was one of them and Doherty felt that if he put him with the two extremely fast tenth graders, maybe the senior would flourish. Certainly, it happened – all three thrived with each other.
"Sean is having a great year. He's just a different kid now. He's just a great boy. Obviously he's grown and he's not only grown as a person, but on the ice as a teammate. He's such a good leader on that second line with those two sophomores," Doherty said. "He stopped chirping and he just started playing the game and boy is he efficient when he just plays. This line has been just fantastic all season. He is definitely a playmaker on this line and all three complement each other so well.
For the past 15 years or so, Doherty has taken the team to Maine for three non-league games. Although he dominates the opposition every year, Doherty says he does it because it really helps to bond as a team. This year, the team only played one game – due to the three games in the Ed Burns Tournament – but this overnight trip confirmed everything Doherty has said over the years.
"It's cool to play with two young kids that I never played with growing up. I've never been on a team with any of them. I just think since the start of the season, especially that trip to Maine when we shared a room, we just started to build a ton of chemistry and just went from there," Lane said. "Matt and Tyler are both very quick, they can both roll. I got a lot of assists giving them both the puck and they're both very good players. Barnesy is very driving and always gives one hundred percent and Matt is just physical and he reminds me of (former player) Will O'Keefe a mix of grit and skill.
As they call themselves "The Tom and Jerry line", the three have combined for 25 goals, 42 assists and 67 points. Lane has 7 goals and 17 assists this year, averaging well over a point per game.
While both young players are more explosive, Lane brings so much to the table. He's a good skater, he's strong on his stick and above all, he's a playmaker, constantly feeding his two teammates with band-to-band passes. He said that in addition to growing in maturity, he also needed to grow as a hockey player.
"I've always taken hockey pretty seriously, but I've never been so focused on off-ice work, in the gym and stuff like that," he said. "I started taking it more seriously at the start of this year. Physically I've matured and honestly, mentally I've matured too, with my approach to the game."
This approach has really helped this team, which currently enjoys a 16-2 record, both losses to two of the strongest D1 teams in the state at Marshfield and Wellesley. Along the way, the Redmen won a league title, the first since 2016.
"(The league title is) the first step in our end goal, which is to win (a state championship) at (Boston) Garden. This is the first time we've (won the league title) in four years, so it's pretty important to all of us," Lane said.
Playing at this TD Garden as a 15-year-old rookie was an experience Lane says he'll never forget – even though the Redmen were defeated.
"It was like a Cinderella story going to the garden with this team. We didn't expect that at all. Our regular season wasn't even that good, and then we turned it around for the playoffs," did he declare.
Maybe Cinderella Story will happen again this year and the Redmen will come back to it? Who knows? But in Sean Lane's case, it's been a Cinderella story all season — a kid who decided on his own to become a leader.
"I'm just more confident on the ice. I guess just being a leader in the team as a senior is me and my friends team and I think maturing a lot has helped me (to grow as a versatile player)," he said.
It certainly is.