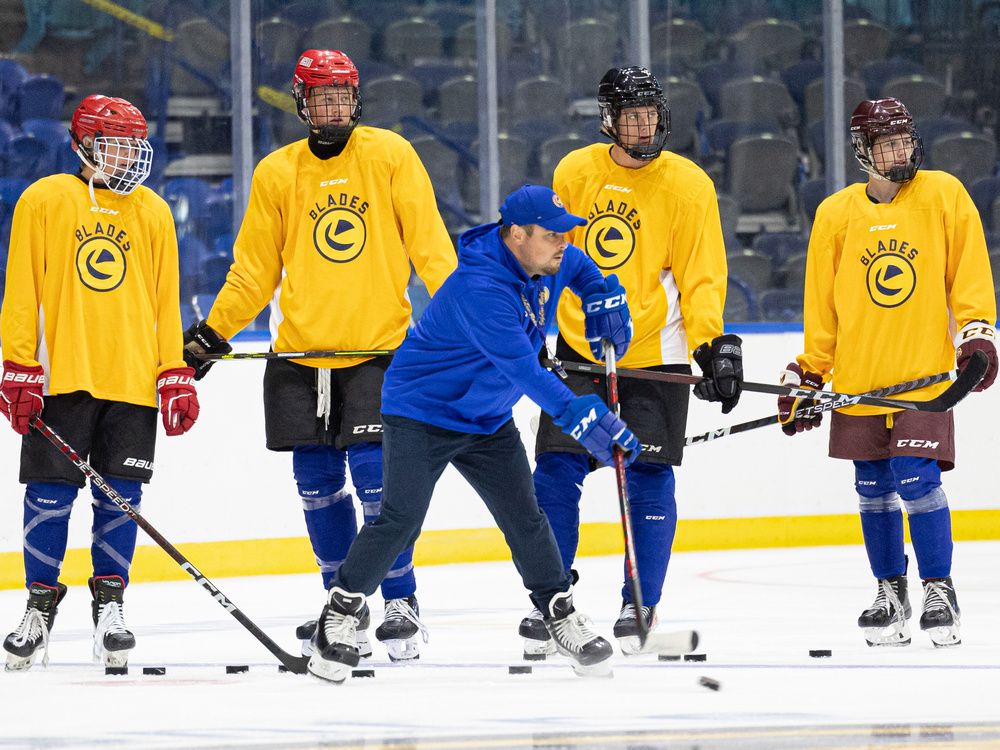 Sonne loves the feel of set-up as Blades skate through training camp
"It's great to be back on the ice, great to see the guys, familiar faces, happy faces."
Content of the article
Brennan Sonne has been given time this summer and he's really enjoying it.
Content of the article
The Saskatoon Blades head coach was hired on July 21, after Mitch Love left for the American Hockey League, and it felt rushed. Lots to do, in a tight time frame.
Content of the article
But now he's been there for a while and spent his summer mulling over plans and strategies, feeling comfortable and ready.
"Relationships are built," Sonne said Friday, during a break from training camp. "I don't need to learn every player's name, face, personality. I don't need to learn every staff member's name, face, personality. What do we expect? here? How are we going to handle this?
"It's much more comfortable. A completely different feeling for me and a completely different vibe in the locker room right now.
"You get hired somewhere, you go to a new organization, and everyone does things a little differently. When you're comfortable, when you've already established relationships, you can immerse yourself in the work all You can dive into development right away. You can dig into structure right away. You can dig to continue and build on last season's goals.
Content of the article
An example of that now-tested familiarity: He approached 17-year-old Blades defenseman Tanner Molendyk this week, assessed him and asked a pertinent question:
"Wow; have you grown?"
Molendyk is, indeed, bigger than he was last year, a brilliance Sonne might not have noticed a season earlier when he was new to the team and its players.
Losses for the Blades last year include graduates Rhett Rhinehart, Tristen Robins and goaltender Nolan Maier, who holds the WHL record for wins by a goaltender.
Most of the team returns intact, and Sonne said he was interested to see how their offseasons went.
"I just want to see guys take action," he said. "I will rate their summers as the physical information comes in, in terms of height, weight, body fat percentage, mobility. We will assess their summers, what form they are in and how they are doing. It's about getting to know the veteran players and seeing how the last four months have been for them.
Content of the article
"From there, simultaneously, we're evaluating the two draft classes that we haven't seen yet. There are a number of players we really haven't seen in this group who could potentially make the squad.
Blades training camp runs through Sunday. Their intra-squad Kirkness Cup third-place match will be played at 9 a.m. and the league match at 12 p.m.
They will open their preseason schedule Sept. 6 in Big River against the Prince Albert Raiders.
And after a long offseason — the Blades went 38-26-3-1 last season, before losing to Moose Jaw in the conference quarterfinals — Sonne said he was very happy to be back on the ice.
"My feet hurt a lot. I guess that's the best way to put it," he remarked.
"It's fantastic to see guys. When you work with guys for nine, 10 months, very closely and in high-pressure situations, you bond very tightly. It's great to see these guys again. Great to be on the ice. Smiles, jokes and good times for now, then the pressure mounts and the live goals fly.
Content of the article
"But it's great to be back on the ice, great to see the guys, familiar faces, happy faces. We are happy to get to work.
Maier, Rhinehart and Robins: Saskatoon Blades graduates 'grateful' to end their careers with a full season

Blades head coach Brennan Sonne looks forward to additional off-season preparation
News seems to be flying towards us faster all the time. From COVID-19 updates to politics and crime and everything in between, it can be hard to keep up. With this in mind, the Saskatoon StarPhoenix has created a Afternoon titles newsletter that can be sent to your inbox daily to ensure you are up to date with the most vital news of the day. Click here to subscribe.