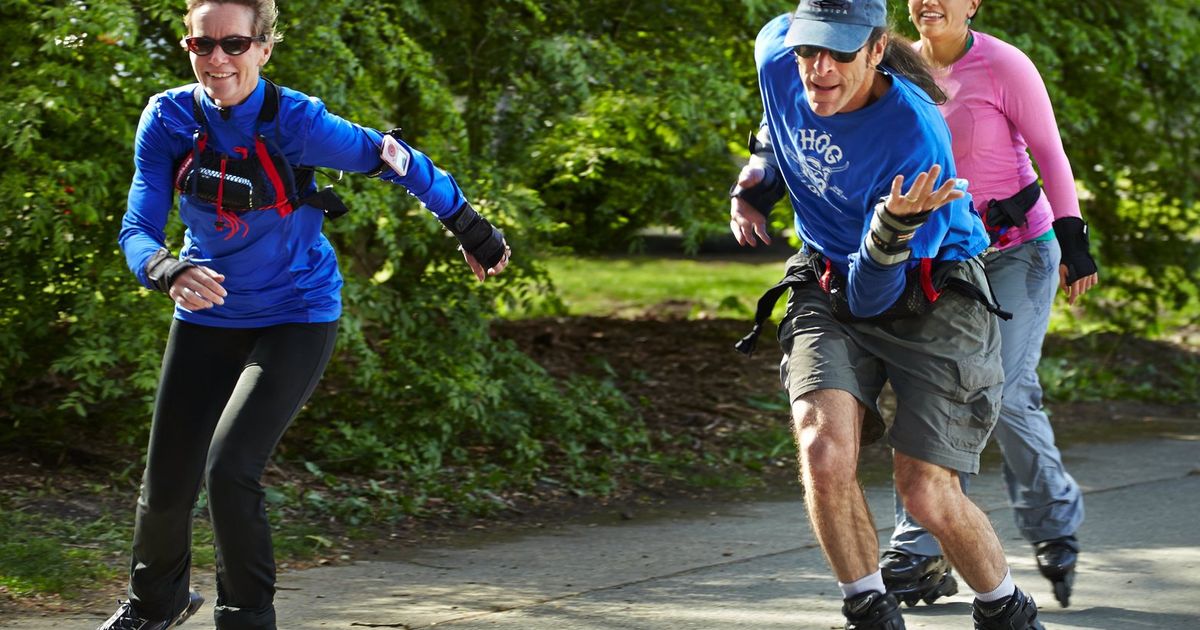 Turn up the music and skate (inline) for a great workout
Originally published June 19, 2015
By Nicole Tsong, former editor of Fit for Life
DON LOSEFF'S EMAIL was contagious. He wanted me to try his favorite form of exercise – rollerblading while blasting songs on a boombox.
I was slightly concerned about inline skating. I have a pair of rollerblades that I haven't used since high school but dragged across the country as an adult.
I was definitely concerned about the project of playing music in public. If I saw you playing music on a hiking trail or at Green Lake, I secretly wanted you to turn it off.
But then Don emailed and I agreed to be that person. Forgive me.
Don was even more enthusiastic in person. It also had a cool setup, with bespoke sleeves; mini-stereos rather than the big black boombox I had imagined; and Bluetooth. It had a pocket setup for me.
Don and his wife, Debby Heath, rode with headphones. They found it to be more dangerous, especially on mixed-use trails, where inline skaters tend to go faster than everyone else.
Now people can hear them coming, especially children. As soon as people record the music, Don and Debby fly away, taking the music with them. Some people smile.
I was reassured.
Once I was settled in with my own little boombox, we synced our playlists and then headed out around Green Lake.
Don and Debby are fast skaters, but they stuck with me to start. Don explained that he sometimes becomes antisocial. He listens to music and likes to be alone, to dance.
We settled into our own rhythms, and they both got ahead of me. Don danced and weaved his way through the sunny weekday afternoon crowds, while Debby skated at a fast, steady pace.
Behind them, I focused on my skating form.
I forgot you can feel every rumble of the way through your inline skating feet. I thought I had every climb and curve around Green Lake memorized, but skating emphasizes every change in terrain. I imitated Don and lowered my legs to pick up speed. My hips were tight at first, and I told myself to relax. My heart rate also increased and I quickly sweated. It was exercise, no doubt.
I also liked the music. Don started us off with "Happy" by Pharrell Williams and had a fun selection, including "Uptown Funk" by Bruno Mars and Mark Ronson. By the time we got to Billy Idol's "Dancing With Myself," I had slacked off a bit and done a shoulder jerk or two.
People glared at us as we sped past, and I realized how many people had headphones on. I felt sorry for them. We had a lot more fun.
As I passed the guitarist by the pool, passed the guy offering Spanish lessons, and drove past someone offering free hugs and kisses, I realized that the in-line skaters playing music blended in easily with the quirky Green Lake landscape. You might not like us, but this looked like the biggest Seattle activity I had done in a long time.
It also occurred to me that I had stumbled upon an exercise disguised as an emotional and improvised outdoor dance party.
Two laps around the lake equaled a good vigorous skate, although Don and Debby returned to the track for more. Alki is their favorite place.
If you have given up on your inline skates, I advise you to take them out this summer. Set up a little boombox contraption, create a playlist and go for a head spin. You will sweat and you will certainly have fun.