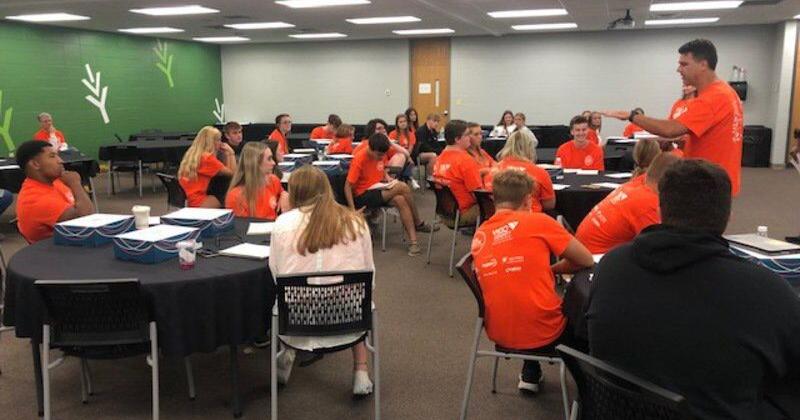 VCSC Hosts Second Teen Leadership Conference | Local News
Terre Haute is a community where individuals with vision and determination can make a huge impact, Mark and Tiffany Baker told high school students at Vigo County School Corp. Wednesday at a leadership conference.
The bakers, at 3 Sisters Investments, know firsthand how to bring about change and have an impact. They have been instrumental in the revitalization of the 12 Points neighborhood.
They spoke with VCSC students at Ivy Tech as part of the second annual Team Vigo Leadership Conference.
The Bakers encouraged the students, who could be the community leaders of tomorrow, to be part of the positive changes happening in Terre Haute.
These positive changes can happen with vision, courage, optimism and a relentless pursuit of that vision, they said. It is also essential to find outside funding sources and people willing to invest.
They asked the students what they liked in Terre Haute and what they would like to see in Terre Haute.
Some of the things students would like to see include more ethnic restaurants; a Skyzone trampoline park; a cheesecake factory; indoor ice rink and more stores at the mall.
"We want them to think about their community and how they can impact change here," said Tiffany Baker.
The Team Vigo Leadership conference took place on Tuesday and Wednesday. Student council and class officers from North, South, and West Vigo participated in leadership activities and heard from guest speakers.
Students learned about team building, strategy, vision, decisiveness and agenda setting. They heard from Ivy Tech Chancellor Lea Anne Crooks, Mark and Tiffany Baker and the Terre Haute Chamber of Commerce.
Megan Moshak, who will be a senior from North Vigo, said during a break between sessions, "I really have a lot to learn as a leader," but she's convinced the conference is teaching her skills that will help her. will help you reach your potential.
Students were also asked to give their opinion on changes to the district's cell phone policy. Moshak said it's important that students be consulted. "It's a new generation. We rely on our phones, our Chromebooks and a lot of electronic devices," she said.
Moshak said her original plan after college was to live somewhere other than Terre Haute, but after hearing from the Bakers, she might reconsider. She sees potential in her hometown and "a part of me kind of wants to stay here."
Preston Montgomery, who will be a senior at West Vigo, said what he took away from the leadership conference was "to be the person who is ready to step up and do something". In addition, he hopes to serve as a role model for young students.
He plans to study nursing, possibly at Indiana University, but hopes to live and work in a bigger city. "I like fast stuff" and meeting lots of new people, he said.
Superintendent Rob Haworth said the goal of the conference is to develop student leaders within schools. Looking to the future, another goal is to keep students in Terre Haute to live, work and raise families.