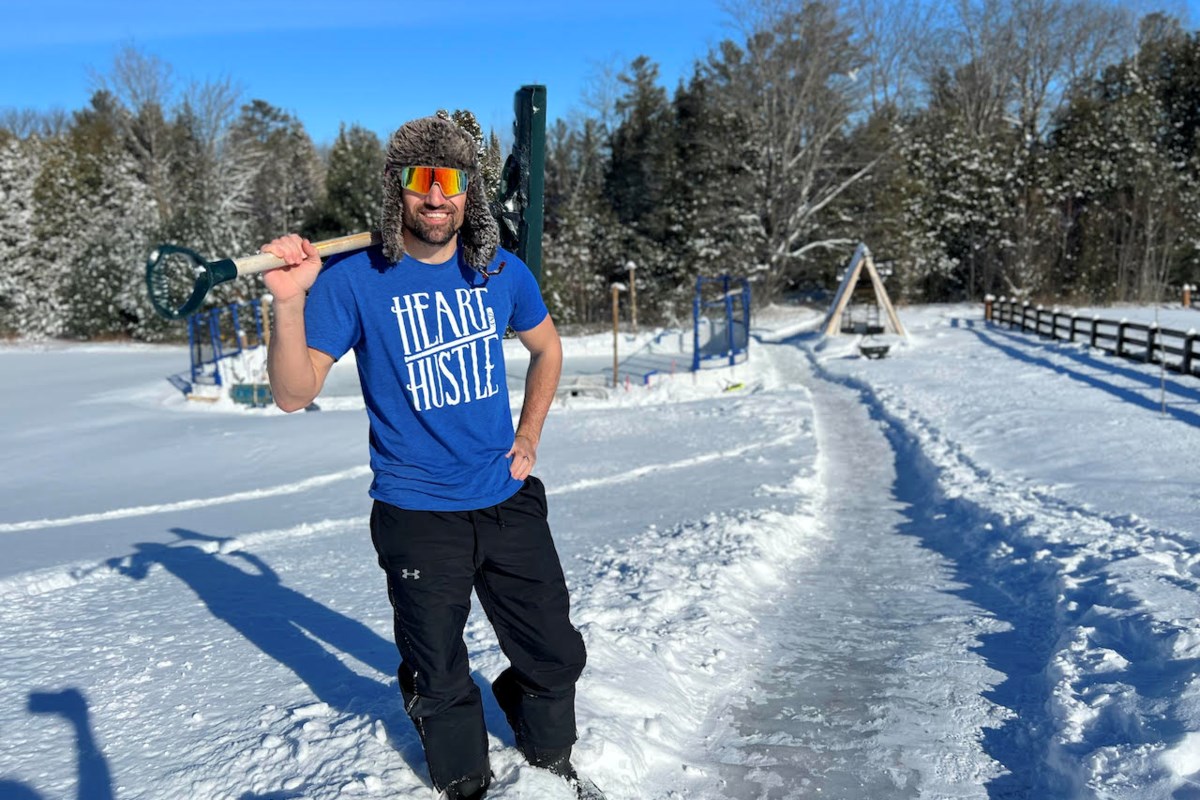 'Very Canadian': Local man builds 500-foot skating rink in his backyard
"Get out and have fun in the winter (and)…don't be afraid to get out in the snow and have fun," says How to Hockey founder
How to Hockey's Jeremy Rupke created a 500-foot skating rink in the backyard of his house just outside of Orillia.
The idea for the track came to Rupke last year after he thought it would be nice if he could lace up his skates in the warmth of his own home and then skate to his back rink.
"I made an ice path from my house to the rink, then I jumped to the rink. Then I thought it was a lot of fun and it worked, so we should make an even bigger track," he explained.
Rupke's content co-creator at How to Hockey, suggested the trail be extended to the driveway so he could get to work, put on his skates, and then skate to the rink.
"I thought we might as well get it into the woods too because we have a tent there, and we could make it the longest private trail. Then my son's seventh birthday was coming up, so I said to get him ready for Mason's birthday as a birthday surprise," he said.
The trail is currently being refined to make it nice and smooth, but it does have its twists and turns after the initial gradual descent, Rupke explained.
"The downhill part gets you down pretty quickly, and then there's kind of a little plateau where you can hit the brakes if you need to, and then it just keeps going down. You can go pretty fast if you want," Rupke said.
Rupke put his usual work aside for about a week to focus on creating the trail.
"We really need the weather to cooperate. Basically, the colder it is, the faster you can build ice on it. The first part is getting the snow blower and some tools to clear a spot and pack the snow. Once you've pretty much made the trail, you put water on and on," he said.
"We had 300 feet of pipe hooked up to a homemade PVC pipe with a towel on it to evenly distribute the water. Once we felt it was getting quite smooth, we tried out a few techniques to make it super smooth. There is a lot of maintenance devoted to it. »
Rupke's favorite part of the trail is that it exemplifies the Canadian spirit.
"You can park in the driveway, put on skates, skate in the back yard and walk into the hockey rink. It's just very Canadian," he said.
Although Rupke's track is not open to the public, he encourages everyone to check it out on social media. Rupke also encourages others to do their own winter fun.
"Go out and have fun in the winter. It is unfortunate that our activities have been restricted in Ontario due to COVID protocols, but don't be afraid to get out in the snow and have fun," he said.
"Build a skating rink, an igloo, an ice rink in your backyard and spend some quality time with the family," he urged.