What motivates Canada's Gabrielle Daleman to continue skating – inline figure skaters
By Scott Mammoser, Contributing Writer for the FSO Team
Photos of Robin Ritoss
WARSAW, POLAND – There is only one spot on the Canadian Women's Olympic Team and three teenage girls are already on the line.
Gabrielle Daleman, who previously placed 17th in Sochi in 2014 and 15th in women, as well as a team gold medal in PyeongChang in 2018, also aspires to make her third Olympic team. The announcement will be made at the 2022 Canadian National Championships in Ottawa January 6-13.
The selection process begins for Daleman this week in Regina, SK at the 2022 Skate Canada Challenge where she must qualify for the national championships. If successful, Daleman, who turns 24 on the final day of the event, will face Emily Bausback, Madeline Schizas and Alison Schumacher in Ottawa for that one Canadian female position. If Gabrielle Daleman arrives in Beijing, she will know who to thank.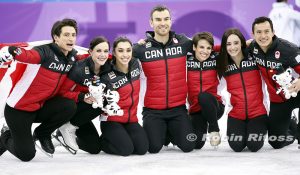 In the recent ISU Challenger Series Warsaw Cup in Poland, Daleman recorded 176.64 points, a 30-point improvement from his eighth place at the Fall Cup in Montreal earlier this season.
After his seventh place finish, Daleman frankly said his fans were his biggest motivation.
"My family is absolutely amazing," said Daleman, "they're out of this world, but my fans are definitely the reason I keep going, they inspire me, they motivate me, and even after all, they are so supportive. and so loving, and I wouldn't be here without them.
"They always remind me of how much I inspire them, how (I am) an inspiration and how much I keep fighting," the Toronto native continued of her fans. "They are just wonderful people who remind me that I am worth more than I think and how much I love my sport."
"Warsaw was still not perfect, but it was a step in the right direction," said the bronze medalist at the 2017 Helsinki Worlds. "It was only my second competition in front of an audience and judges, so I'm very happy with what I did here. I don't want to be perfect now – I want to be near perfect at the nationals, that's my goal. I will continue to focus day by day, getting those more and more (flawless) jumps, (trying) more programs and I will just enjoy skating and loving it, being in the moment every day.
Silver medalist from the Four Continents in 2017, Daleman is currently skating on Astor Piazzolla's "Libertango" in her short program and Camille Saint-Saens' "Samson et Delila" in her free skate.