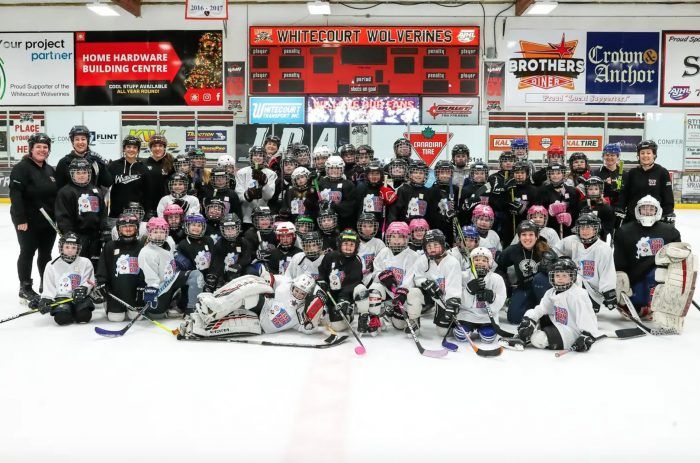 Women's hockey returns to the spotlight
Content of the article
Put them back in coach, they are ready to play.
Content of the article
Still.
Women's hockey is expected to return this fall to Whitecourt after a half-decade hiatus, although form is yet to be determined by overall registration from across the region.
"We had a team over five years ago and it kind of fell apart," said Reilly Hogberg, women's manager of Whitecourt Minor Hockey. "But I felt for a long time that there was still a need in town. I became the female director last year and a group of us got together and started doing these free female skates for all ages from U-7 to U-18. There was a wave of support, it was super successful. We started doing them once a month. The downside was that we only had half a pad of ice for an hour once a month. There were times when we had over 30 girls on that little ice surface, it was tough. So, in March, we organized an Esso Fun Days women's event and almost 60 girls came from all over the region. We had guest speakers and an on-ice session that really gave the girls a chance to get a real feel for hockey to see if they liked it and wanted to pursue it. It went super well and we decided to try to get at least one team going this year and try two teams at U-13 and U-15 level.
Content of the article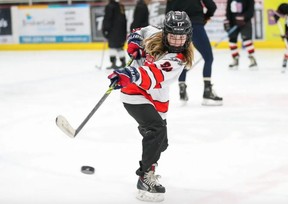 However, coming back with two teams could end up being wishful thinking.
"We're still waiting for more girls to sign up, some still seem hesitant," Hogberg explained. "We need more numbers if we want to try to have two teams. Otherwise, we are confident that we will have enough for a joint U-13-U-15 team at the very least. Our future goal is to to have a successful and sustainable women's program and to transition to an U-11 team once we have established teams at the higher age levels first.
"It will be great to have a team, to have women's hockey back in the region. It's so exciting. We are just impressed after each session with how the girls are all there and eager to learn with such positive attitudes – whether they can barely skate or have been there a long time. They love being together, it feels like a real community.
Content of the article
Women's hockey in the Whitecourt area recently received a boost when the program was chosen as one of three organizations across the country to receive a $1,000 grant as part of the inaugural Game Changers campaign from CARHA Hockey for women-focused initiatives.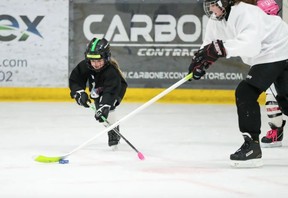 "The positive response and conversations we've had following the Game Changers campaign proves that change is on the way," CARHA Hockey CEO Lori Lopez said in a statement. "Representation matters, and we must commit to strengthening organizations and initiatives, like those that participated in the campaign, to break down old barriers and create welcoming sporting environments. Women remain underrepresented in positions of participation and leadership, and it is time to change that.
Content of the article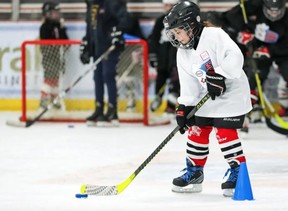 Hogberg said every ounce of support helps and the grant money comes at just the right time.
"It's wonderful," she said. "We can use it for another Esso Fun Days type event, another learning day. Or we can put it towards ice times and potentially get full ice. We just want to give more opportunities to girls.
"The momentum is building and it will only continue. I can't wait to encourage more girls to lace up and get out there.
Whitecourt's new women's team will use surplus jerseys from the Wolverines men's program for its first year and compete in the Edmonton Women's Hockey League.
Those interested in playing are always welcome to contact Hogberg by the end of the month at [email protected] or 780-779-6450.