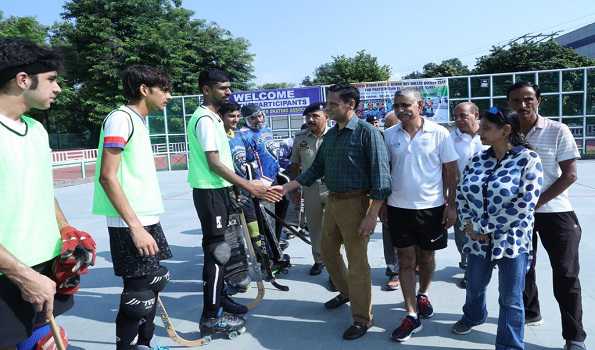 World Skate Games: Jammu ADGP boosts Indian roller hockey skaters in training camp
Jammu: Ahead of their participation in the World Skate Games scheduled for October, the Indian men's team is sweating a lot in the rink training camp at the Maulana Azad stadium here.
This is the second training camp organized by the Indian Roller Skating Federation, with the first camp taking place from June 15 to 30 in Patiala.
On Sunday, the Police Extra Director General, Jammu Zone, Mukesh Singh encouraged the skaters attending the training camp by facilitating them with memos and presenting them with t-shirts.
Cheering on the contingent, Singh, who is an athlete and sports promoter himself, extended his best wishes for the prestigious international competition.
"Stay focused, play your game and perform at your best," Singh gave the success "mantra" to coaches.
Sharing the details, the team's head coach, Rajesh Anand (Deputy Superintendent of Police J&K Police) told UNI: "It is an honor for Jammu and Kashmir UT to have such a camp level be organized by the Indian Roller Skating Federation, hosted by J&K Roller Skating Association and supported by J&K Sports Council in conjunction with J&K Police from August 20-31.
He said India's junior men's and junior men's roller hockey team will compete in the World Skate Games to be held in Buenos Aires and San Juan, Argentina from October 24 to November 13.
Notably, the Indian Roller Skating Federation allowed Rajesh Anand, who is also an international player and captain of the Indian roller hockey team, to run the camp in Jammu under his supervision.
"The morale of the team is very high. We are sure that the teamwork and the synergy between the players will hopefully win some awards for the country at the international forum," Anand said.
However, Indian Roller Skating Federation Secretary, Naresh Sharma and J&K Roller Skating Association President, GS Khurmi thanked J&K Sports Council Secretary, Nuzhat Gul and J&K Police for all the logistical support and assistance. motivation of skaters.