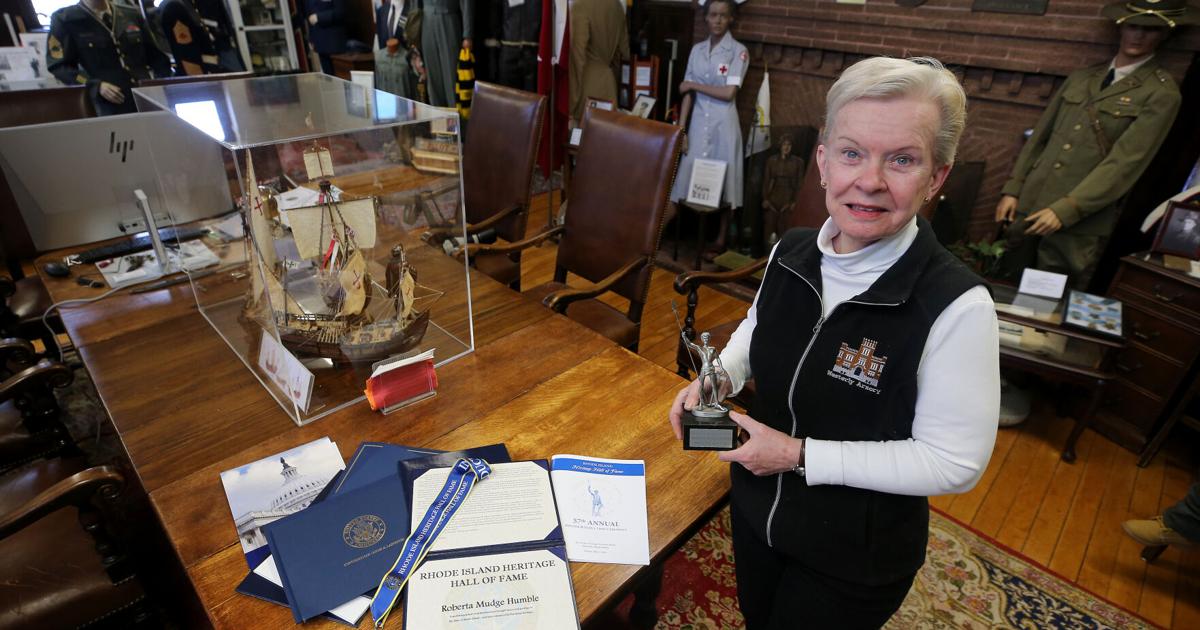 Worthy of Honor: Humble inducted into the RI Heritage Hall of Fame | West
WEST – Humble Roberta Mudge, the woman who has traveled the country sharing stories of Rhode Island's history and whose dedication to her home state, passion for preservation and love of local gunsmiths is well documented and well-known, was inducted into the Rhode Island Heritage Hall of Fame on May 1.
The consecration made her a member of an elite group of Rhode Islanders that includes Roger Williams, Salty Brine and the late Senator John O. Pastore.
"I've been so honored to be part of such a group," Humble said on the phone recently from the Westerly Armory, the building she's largely responsible for safeguarding, growing and maintaining. promotion, "and to be honored by an organization that honors all types of people."
"Most of the time I'm just happy for the armories," added Humble, the founding president of Westerly Armory Restoration Inc. "It gets the word out about them."
Typically, Humble, a Westerly native and Westerly High School graduate who earned both her bachelor's and master's degrees in English from the University of Rhode Island, shrewdly diverted attention away from herself and toward the state of Rhode Island and its 18 historic armories. .
Humble, the only daughter of the late Claire and Robert Mudge – well-known longtime Westerly educators – wrote several books on Rhode Island history and culture, including "The Historic Armories of Rhode Island", "Rhode Island's Friendly Faces" and "The Right to Crow: A Look at RI's Firsts, Bests, & Uniques", and created several games, including "The Rhode Not Taken".
"In the long run," she said, "I'm not important; the armory is."
Humble said she has given Power Point presentations to interested audiences in each of Rhode Island's 39 cities and several locations across the country and never tires of sharing her knowledge.
"People really love their state," said Humble, a professor emeritus of English at CCRI who taught technical writing and oral communications for decades before retiring a few years ago.
During comments she made at her induction ceremony, held at the Crowne Plaza Pavilion in Warwick on May 1, Humble thanked John Humble – her former husband and the operations manager of the Railroad Avenue building – for "keeping my work and the Westerly Armory afloat for many years."
"But now," she told the roughly 500 people gathered, "I have to tell you about Puffery. That's usually not an attractive word. And what I've discovered and tried to promote over the years , is that [Rhode Island] is a place that deserves huge puffs.
"Let me tell you a few things that might inflate your impression of our state," she said before listing the state's many "firsts."
From being the first state with the first armed act of rebellion against the British in 1772, Rhode Island was also the first state to have a black regiment fighting against the British, she said, and the first state to have a female state attorney general. and editor of a newspaper, the first state to stage the nation's first strike with female participants, and the first state in America to have a city founded by a woman.
Humble then shared many other Rhode Island firsts, including that "we have the first Baptist church, the first Jewish synagogue, and the first Quaker meeting house in the country."
"We were the first in the country in almost every sport – first polo matches, first lawn tennis championship, first open golf tournament, first automobile race on an oval track, first roller rink, first baseball world champions , first of basketball's original NBA franchises and home of basketball's fast break, first football team to host an NFL game – and on top of that, we've had the first automobile driver jailed for speeding," she said.
"We had the first college in the country open to students of all faiths, the first college to offer a degree in culinary arts, and the college with the first program in the country to train students in marine and environmental policy," he said. – she continued. "We were the first in the country to have gas-lit street lamps and the first to have an automated post office, and the first to enact a law prohibiting slavery in North America in 1652."
And, she continued, "we can claim to have the oldest operating tavern in the country, the oldest spinning mill, the oldest community bank, the oldest 4th of July celebration and the oldest community group.
"I thank my lucky stars for being born and living in a state with such a deep and beautiful heritage as Rhode Island," she concluded. "And I'm grateful to be here tonight to tell you that."
Lisa Konicki, president of the Ocean Community Chamber of Commerce who attended the induction ceremony, said in an email, "It was an honor to attend and see Roberta receive this well-deserved recognition.
"She is a special lady who has gone to extraordinary lengths to document, celebrate and promote Rhode Island's heritage," she said. "I also thought his acceptance speech was the most spirited of the evening and demonstrated his passion for all things Rhode Island."
State Representative Sam Azzinaro of Westerly, who was in attendance with his wife, Carol, agreed.
"She spoke very eloquently," Azzinaro said in a voicemail. "We're very, very proud of her. … It's well deserved. She was awesome. We love her here at Westerly."
James "Jimmy" Burchfield, a North Providence restaurateur and internationally renowned professional boxing judge, was also inducted at the ceremony; Robert I. Burke, a gourmet restaurateur from Providence (Pot Au Feu) who established the Independence Trail Educational Foundation; Arnold Buffum Chace, Jr., a prominent Providence businessman, developer, philanthropist, and community activist; Wilfred W. Greene (aka "Chief Eagle Heart"), a relentless crusader for Native American rights who, as "Wild Willie" Greene, was the world's seventh middleweight boxer and later became the leader of the Seaconke Wampanoag Tribe; former House Speaker John B. Harwood; Dr. Edward A. Iannuccilli, former chairman of the Rhode Island Hospital Board of Trustees; Mark Patinkin, journalist and columnist for the Providence Journal; and Stanley Weiss, a civic leader and philanthropist.