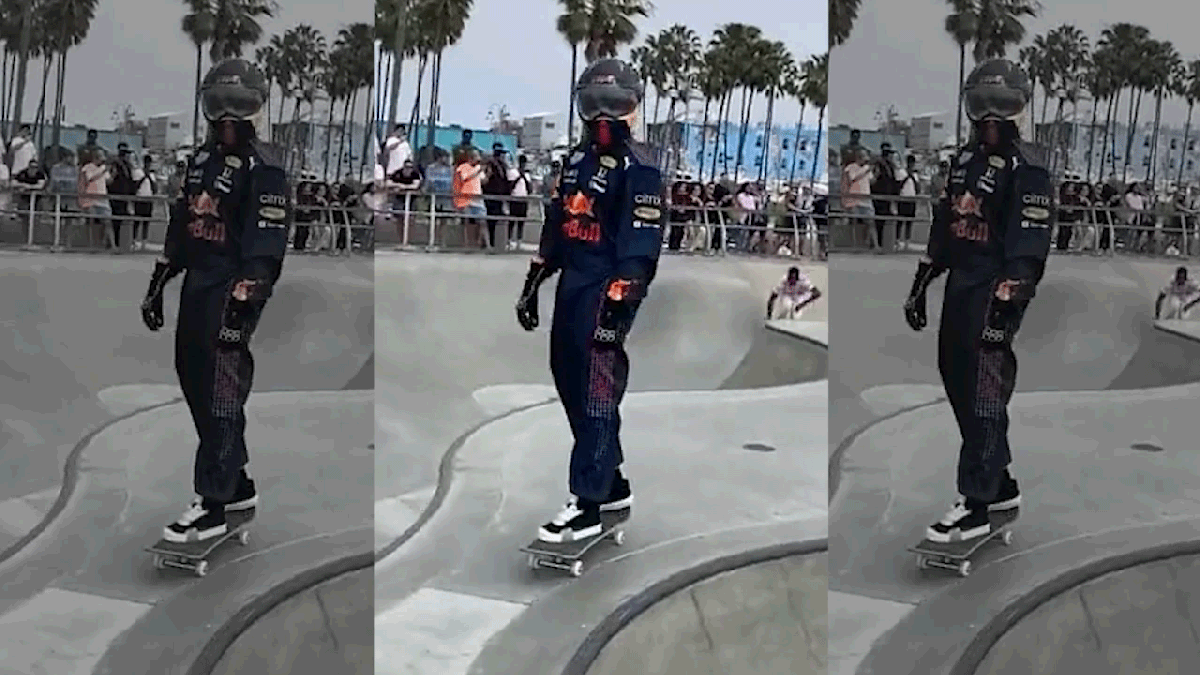 Would you go skating dressed as an F1 crew member?
A strangely interesting video appeared on my social media feed yesterday. The video was shot at Venice Beach Skatepark in Los Angeles, California. The footage primarily focuses on a skateboarder as he launches out of a bowl, shoots a nose high in the air, and lands reasonably cleanly. It's all set to Jimi Hendrix's "Voodoo Child." It was a pretty sick clip, but something just felt out of place.
For two brief moments there was a skater in the foreground wearing what appeared to be Formula 1 team member gear. It's not just the trademark flame retardant Nomex suit, but also matching gloves and helmet. This skater is completely ready to come out unscathed from a small fall and a pit stop. However, I don't think the shoes have been homologated by the FIA.
The equipment can be easily identified as coming from Red Bull Racing from the 2019 or 2020 Formula 1 season. There is a Honda logo on the left chest of the suit below the Rauch logo, and there is no no Honda wordmark below the Red Bull logo as in the 2021 season. If equipment is genuine, I can't imagine how expensive this purchase was. The closest equivalent I can find for sale online is a 2014 Red Bull Racing crew suit for around $518.
The last thing I want to mention is that it's Los Angeles. While I jokingly tweeted that this proved F1 had succeeded in America, I really want to know how a skateboarder in Venice Beach got his hands on some relatively new F1 pitlane clothing and thought it was a good idea to wear it. exit to the skatepark. I'm also concerned about where someone will randomly spawn in Formula 1 pit gear next.